We've talked many times about the damage caused by heat tools on hair when used daily, especially if you haven't properly prepped your hair.
Whether your hair looks dull, or it's breaking, or even if it's frizzy, the first thing you can do to bring back their health is to take a break from heat styling.
Let's clarify here that we don't mean drying your hair with a hairdryer, but rather styling your hair with any kind of heat tool.
And of course, you might be wondering: "How can I style my hair to keep it looking polished without using heat?"
The answer is Protective Hairstyles.
What are "protective hairstyles"?
When we talk about "protective hairstyles", we're referring to easy hairstyles that you can do either by yourself or at the salon to shield your hair from damage caused by the sun, sea, or heat styling tools.
The purpose of this article by the hair experts at bamhairsalon is to provide you with easy solutions and stylish ideas for always having well-groomed hair, effortlessly in just a few minutes, and of course, without any damage!
So, "protective hairstyles" are like the go-to cool hairstyles that don't mess up your hair, and it's a smart move to rock them even in winter to give your locks a breather from all that heat styling.
Who are they suitable for?
No-heat Hairstyles are suitable for all hair types.
They are highly recommended for those who have very damaged hair and want to start (or have already started) their journey to healthy hair. Always combined with a hair care routine with specific products and treatments.
1. Curls without using heat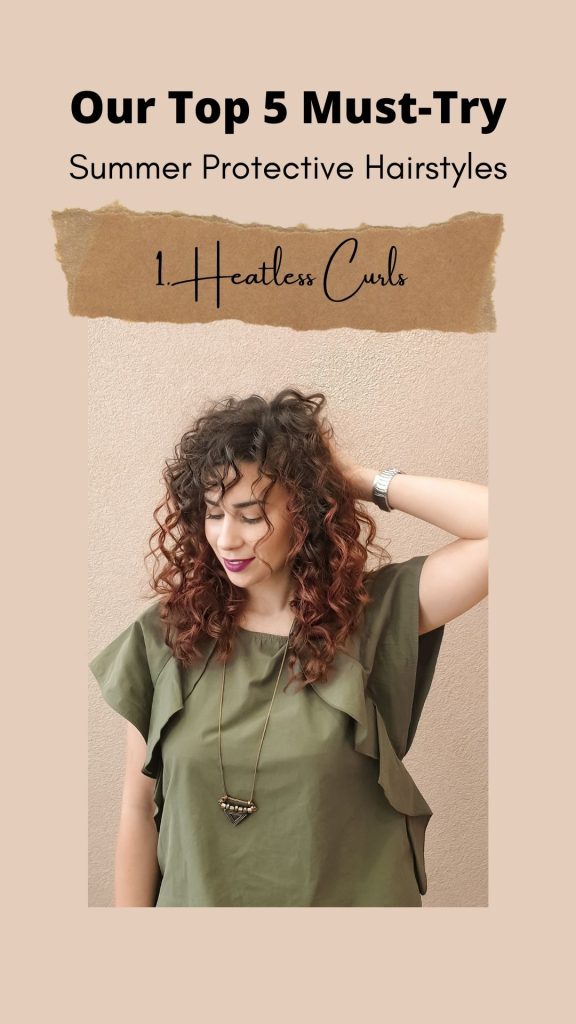 An easy technique for any hair type, even for curly or frizzy hair.
You wrap your hair up with a fabric band or a scarf and sleep with it on. Keep in mind that when you sleep with your hair wrapped in a scarf, it drastically reduces frizz.
To keep your curls all day, use a styling product before you do the process.
Complete your hairstyle with hair oil and hairspray for hold.
Watch the tutorial here.
2. Messy Bun
Skip the tightly pulled bun if you want a super natural hair look that screams zero effort!
It will look fantastic if you curled your hair without heat the previous day, because your hair will have a bit of volume and the curls will have transformed into more relaxed waves.
If you haven't done any prep work on your hair, no worries at all!
If your hair is very straight, flip your head upside down and spray a bit of texturizing spray or holding spray onto your hair to give it some volume.
If your hair is wavy or curly, use just a leave-in conditioner to reduce frizz along the lengths and ends.
Get creative and add hair accessories if you want a more playful and girly chic hairstyle!
Watch the video tutorial here
French / Dutch Braid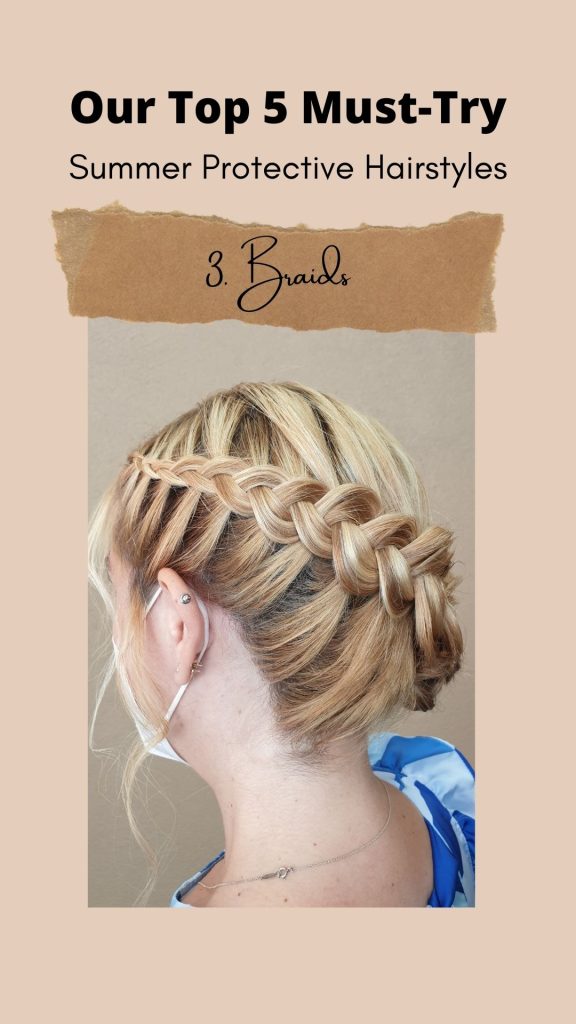 Whether it's one or more, this hairstyle couldn't be missing from our Top 5 favorites!
Always stunning and suitable for every occasion, braids will have you looking fabulous!
If you're having trouble doing it on your own, book an appointment to get your braids done by a professional.
At B.A.M. hair salon the options for braid hairstyles are limitless.
Additionally, you can maintain the hairstyle for multiple days, saving you the hassle of styling your hair each morning.
By the way, don't forget to get a treatment according to your hair needs!
4. Hairstyles with scarves
Unfortunately, scarves are an underrated accessory.
However, if you consider the countless possibilities a scarf can offer in terms of women's styling, it's truly mind-blowing!
Scarves add an elegant touch to your outfit, whether you tie them around your neck, onto your bag, or in your hair. So, take out that scarf you've stashed in your closet and let's create three beautiful, stylish hairstyles to make you stand out!
Using scarf can also protect your hair from the sun's rays and reducing frizz!
5. Bubble Braids / False Braid
An impressive hairstyle that is suitable for a casual day, a night out or a wedding.
A handy alternative if you can't braid your own hair.
This hairstyle is very easy and looks like a braid.
You can rock this hairstyle either very loose or more sleek and pulled-back.
We suggest giving it a try if you haven't had a chance to wash your hair, using a product to secure your hair and roots.
Look how easy it is to create this hairstyle here
These were 5 no-heat hairstyles that we suggest you try!
No matter what you do from these, add your own twist and personal touch for a complete styling that represents you!