Red hair is full of vibrancy, and this time they've come to stay as the new hair trend all year round!
es, we're accustomed to suggesting red and copper hair for the autumn season, as the shades of red, copper, and gold align perfectly with the romantically melancholic mood of the season.
Red hair color is a challenge, as when it succeeds, it's a dream, but it fades easily.
Why does red hair color fade so quickly?
Maintaining red hair is difficult, and this is where the real battle begins.
If you're trying the shades of red on your hair for the first time, it's almost certain that the color won't be as vibrant after 4 weeks.
This happens because the molecules of the red dye are much larger than the molecules in other colors.
Therefore, the first time you try to dye your hair red, the dye won't fully penetrate the hair shaft. That's why the color fades every time you wash your hair.
In summary, red shades on hair are very susceptible, and you'll probably need more care and attention to keep them vibrant.
How to prevent red hair from fading quickly?
Use the tips below to maintain the red color in your hair between your visits to the salon.
It is important to use hair care products that are designed for colored hair only.
Protect your hair from heat and chlorine.. Limit the use of curling irons to 1 time per week maximum. There are many easy hairstyles and ways to make curls without heat.
Try a shade darker than the desired hue.
Allow 3 to 4 days after coloring to wash your hair.
Use cold water when washing your hair as hot water will open the hair cuticles, causing the dye to slip off more quickly.
Limit the number of times you wash your hair as it is the biggest cause of red hair fading and becoming dull and orange. Find out how to do this here.
Take care of your hair after every wash. Conditioner during washing and leave-in conditioner on wet hair seals in moisture, helping to shine the color. Learn how to use the right hair care products after washing here and here.
Use dry shampoo between washes to achieve 2 washes per week.
Give deep nourishment to the hair shaft by using a hair mask at least once a week. Massage the scalp to stimulate hair growth and blood flow. Discover if you need a mask for your hair type.
Red hair is bold, unforgettable, and beautiful.
Right now, it's the most modern and trendy thing you can try in your look.
There are many shades that match every skin tone, and we are sure we will find the right one for you.
Do you feel stuck in the same style for years?
Do you want to try something new or just looking for the next hair trend that will give you a fresh look?
If you don't know what to do with your hair, the following options are the hottest for 2023, remaining very modern and elegant for the contemporary woman.
Hair colors
Already from the previous season, we've witnessed certain hair colors and techniques taking the spotlight at B.A.M. Hair Salon.
More natural colors with less maintenance have been in demand lately.
And if you think you need to be just another blonde to be trendy, but you can't handle all the upkeep and meticulous care, we've got some fantastic news for you!

BRONDE
Bronde is a more toned-down blonde, which is a combination of brown and blonde. Hence the term #bronde (brown + blonde).
If you've tried blonde highlights and balayage for a long time, bronde is a color that you can easily achieve by booking an appointment for a toner.
It's also worth trying if your hair has been through a lot and you want to give them a healthier appearance, but still don't want to go back to your natural darker shade brown.

SHADOW ROOTED BLONDE
If you adore your hair being blonde but are searching for a solution to avoid needing a touch-up every month, the shadow root blonde is an excellent choice.
It's a combination of highlights and balayage (or foilayage) where we keep the root darker and open up to the desired blonde on the lengths and ends.
It looks like the root has grown out, but it's so seamlessly blended with your natural color that it's the most flattering option for brunettes who want to lighten up.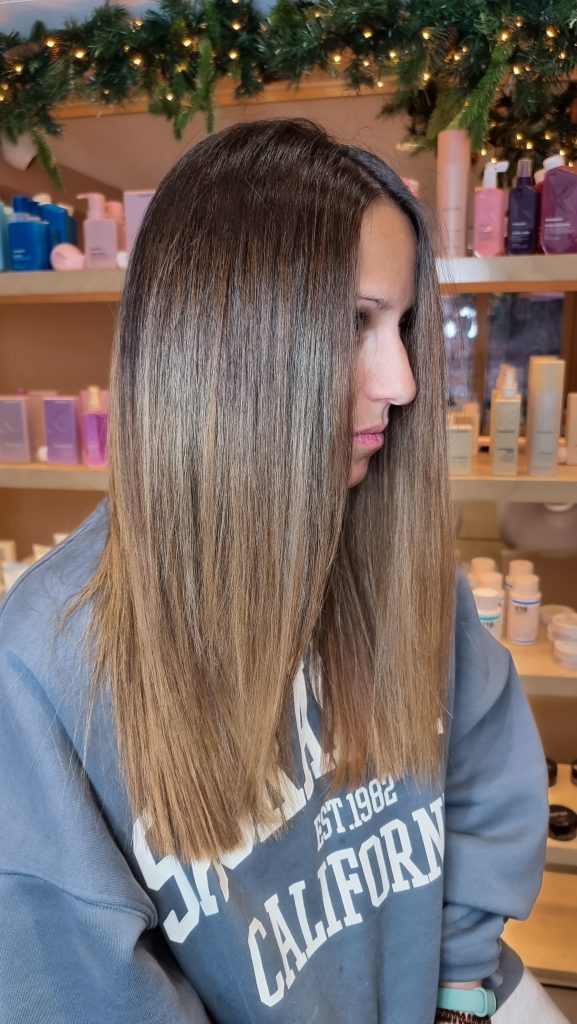 COPPERS & REDS

A very popular color mainly for autumn, but this time it's here to stay for much longer.
The earthy copper and red tones (or a combination of both for a dimensional result)
are shades that you should try at least once in your life!
If you think it won't suit you, we're here to debunk the myth, as the experienced hair experts at bamhairsalon will create the copper color for your own unique shades.
Copper with tints in violet or golden shades will flatter cool and warm skin tones.
RICH BROWNS

Rich browns are a very common hair color for Greek women, so much so that it can be boring.
However, we're not talking about the dark brown that you're used to, but a rich chocolate brown.
Brown hair gives freshness and youthfulness to the look and lately we have seen many women prefer it.
Color techniques like highlights or balayage can always be combined for brightness, with shades of honey or soft copper tones.
Hairstyles
According to the texture and density of your hair, you can wear the most modern hairstyles of the season.
This means that depending on your hair type, we will adjust your haircut for you.

BUTTERFLY HAIRCUT
A timeless and classic haircut is the layered cut.
The Butterfly Cut is currently the most sought-after haircut at any length, as it allows the hair to have natural movement and volume.
"Your style is a language, undoubtedly a form of nonverbal communication."
Did you know how your haircut and hair color is the first thing that defines who you are?
Defining your personal style is a highly significant process, but it starts with embracing a fundamental factor.
And that is that your style is a language.
Style is a form of nonverbal communication,
which we engage in all day, every day, whether we realize it or not.
Our goal is to assist you in expressing your true self and personality through your hair style.
Let us inspire you to remain unaffected by beauty standards.
But to do what fits you.
Our goal is to make sure that with the hair we create, you take control of this message, so you can use it to your advantage.
Through the process of consultation, diagnosis, and recommendation, we help you unlock your true, authentic personal style forever.
So think about the energy and emotions you want to convey about who you really are.
Are you revolutionary, confident, strong, daring, playful, warm, cute, approachable, badass, relaxed?
By combining these personal characteristics of yours with the style you love, the time you have available in your routine, the quality and quantity of your hair, and even your budget,
you will not only find what suits you, but you will also remain perfectly true to your style without much effort.
low maintenance hair for an affordable and stylish look
colorful hair and a playful mood
Hair with a special cut for trendy gals
Bold haircut for bold girls
Hair with a sexy mood and confidence
Hair with an elegant style and a Parisian air
Hair with a Boho Mood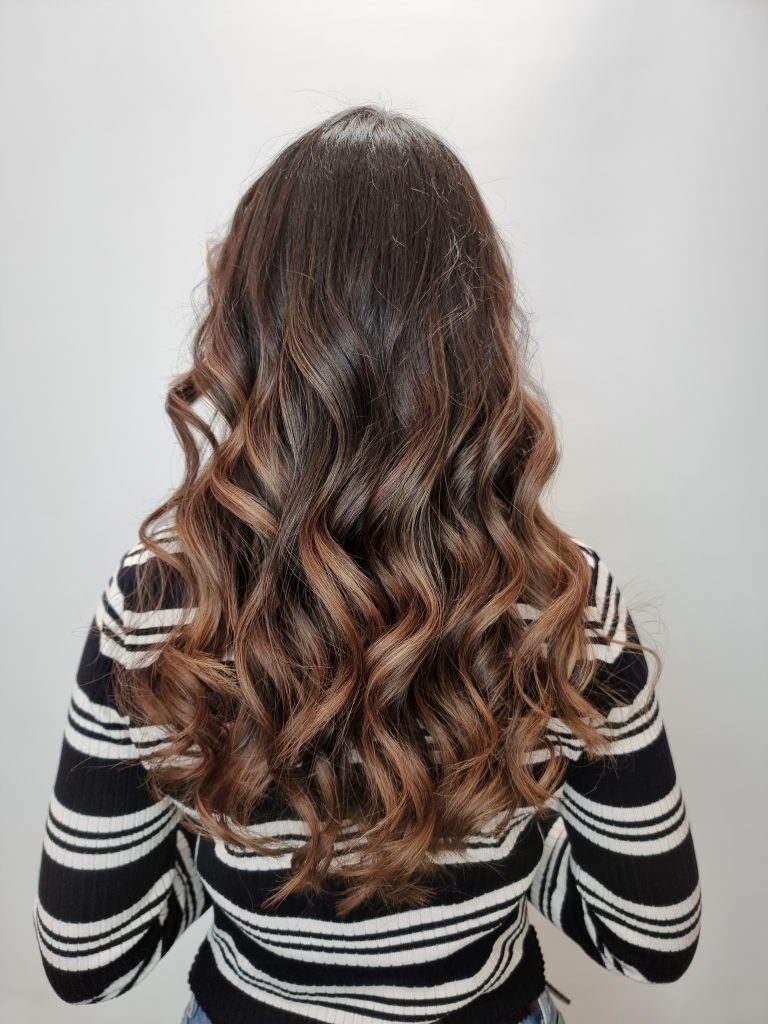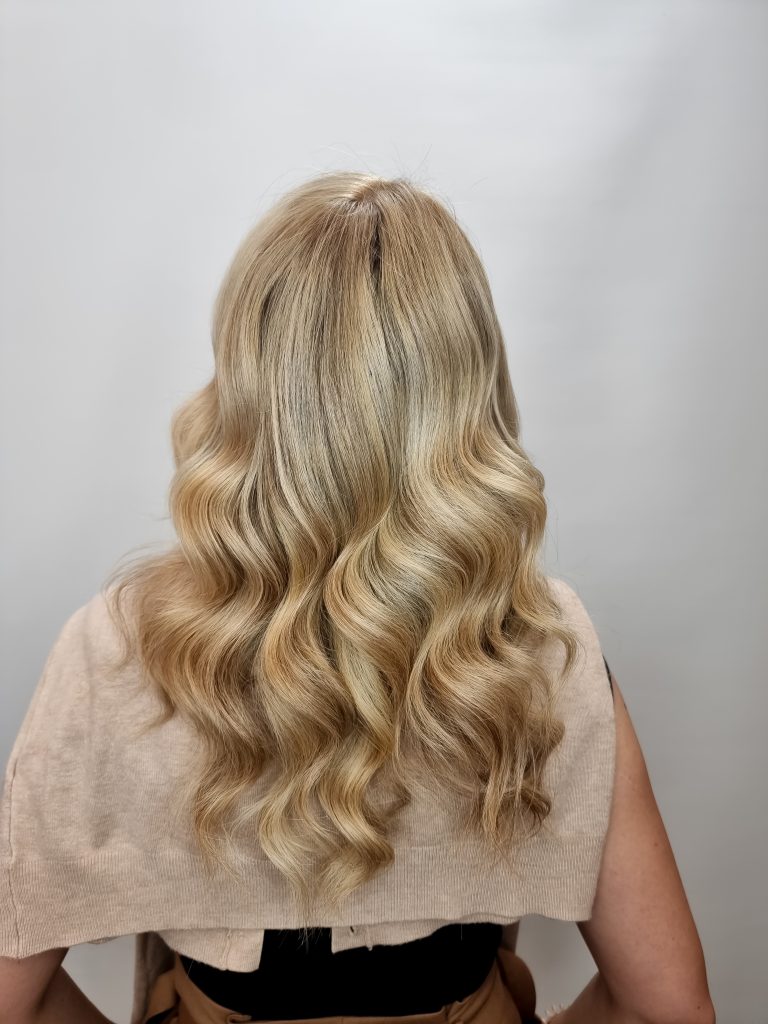 Should I do Balayage or Highlights?
The great debate between the two most popular hair techniques has divided you?
The hair experts at bamhairsalon are here to explain the differences and the criteria to choose the appropriate technique for your hair, style, and budget.
Differences between Balayage and Highlights:
In Balayage, we have a gentle transition from the root color towards the hair ends, keeping the root coOn the other hand, with highlights, we take many fine sections from the root to the hair ends with almost no darker intermediate sections.lor and some intermediate hair sections in a darker shade.
In both cases, the use of aluminum foil on the hair (mainly with highlights) helps us to lift the hair color to a high level to achieve the desired blonde shade.
In Balayage, the use of aluminum foil is not always necessary if we don't want to achieve a very light blonde lift.
Baby lights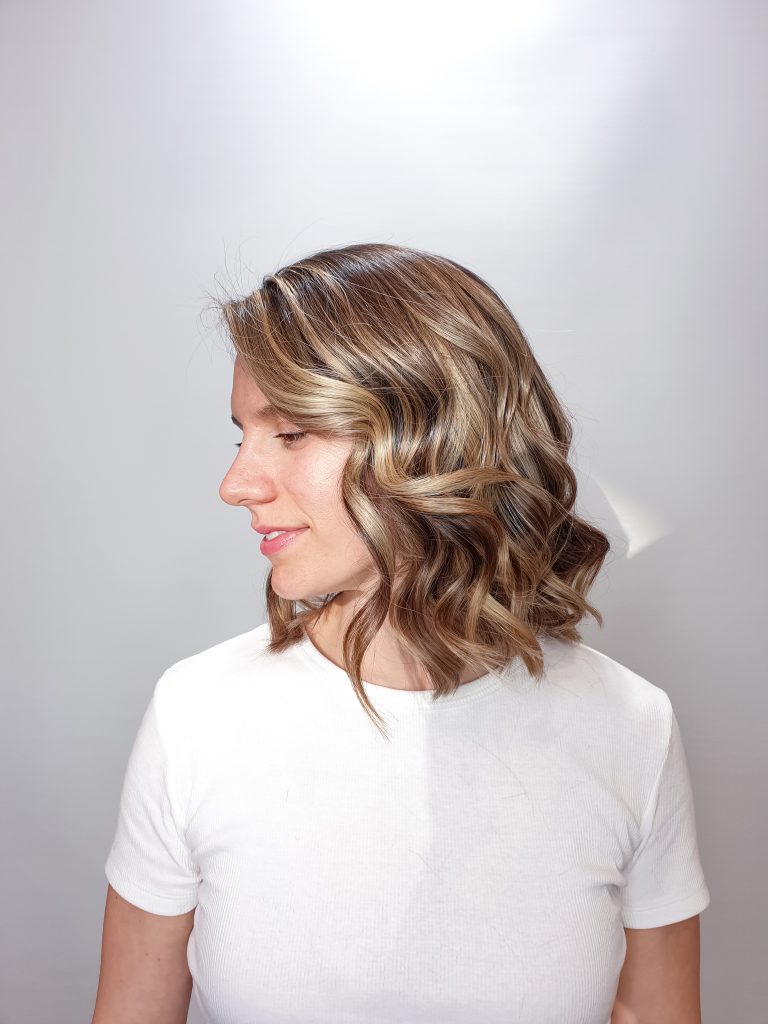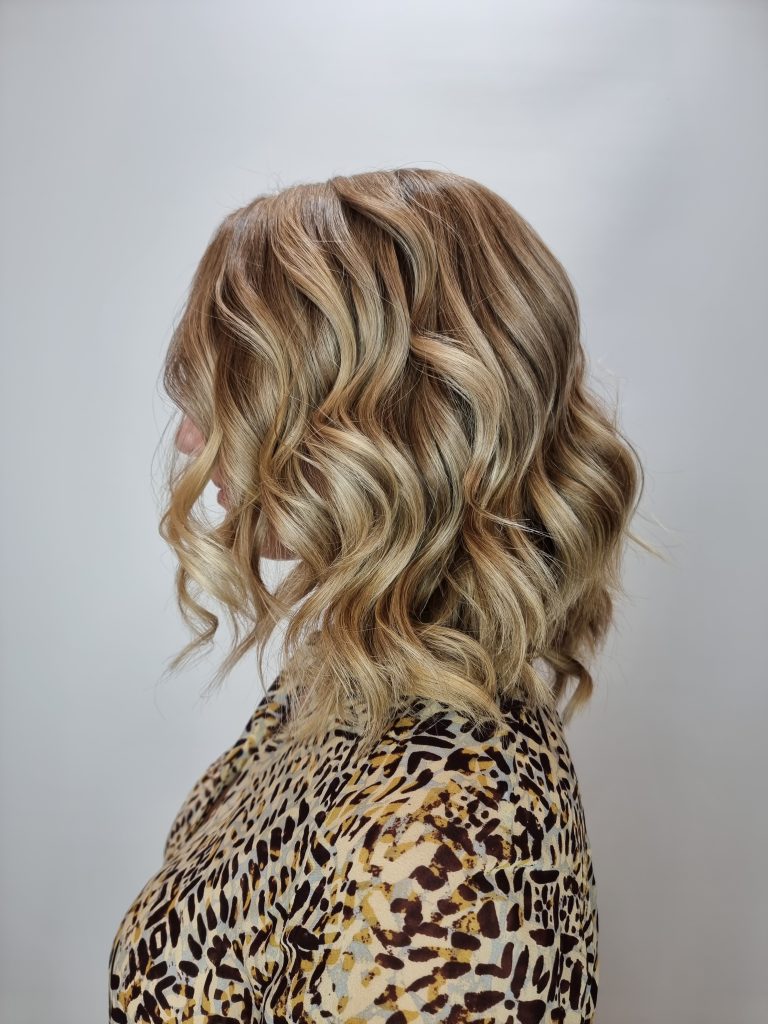 Baby lights are very fine and soft highlights that fade towards the root, with the purpose of looking absolutely natural. That is why they blend beautifully with the Balayage technique, which results in naturally lifted ends.
Very often, you will see this combination of techniques referred to as Baby Balayage.
With what criteria should I choose?
1. How blonde do you want to become or remain
2. Based on the maintenance required
If you desire a luxurious overall blonde color as a result, we recommend highlights.
If you want a low-maintenance technique, we recommend Balayage or Baby Balayage (the combination of baby lights and Balayage techniques). If done correctly and uniformly from the beginning, it can still look great even as your hair grows out.
This is not the case with highlights, as their maintenance should be done every 6 weeks or so.
Results of techniques - Before & Afters
Compromise is not an option when it comes to dull hair
You can bring them back to life by using the tricks and hacks we suggest below to get your hair to shine again!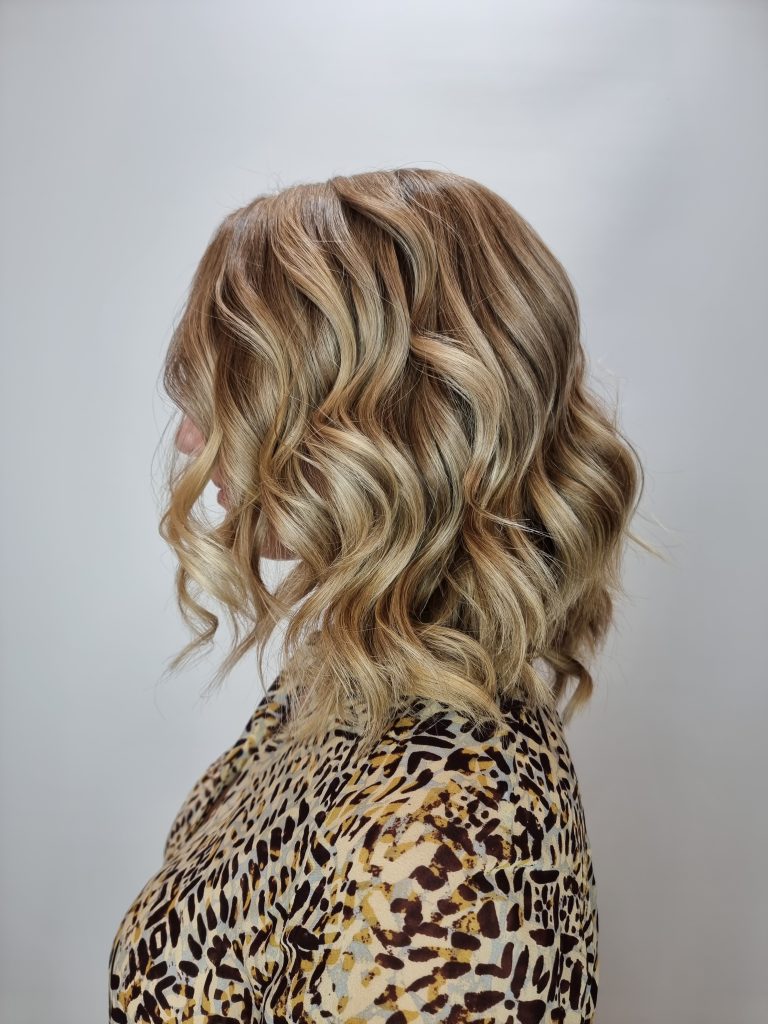 After your hair salon appointment, you may have noticed that your hair not only feels great but is also very shiny and soft.
In order to achieve this effect on your hair, you need to do a few things between appointments so that your hair maintains its shine.
What is dull hair
The characteristics of dull hair are lack of movement, elasticity while looking dehydrated or dry.
You may also notice that the colour looks faded and dull.
Why does hair get dull?
Regardless of their colour, from blonde to brown, hair can lose its shine.
There are many reasons why this can happen, ranging from diet, lifestyle or hormonal imbalances, but there are also things you can do unintentionally such as:
Not rinsing your hair well
Washing your hair with too hot water
Too much exposure to sun, salt, or hard water
Using thermal tools frequently
Using dying treatments frequently
Yet, there is no reason to feel that your hair condition is irreversible as there are numerous treatments, tips & tricks to bring back the dynamic quality to your dull hair!
How to restore shine to dull hair
It's important to create a hair routine that will help you restore shine, strength and hydration to your dry hair, but also prevent colour fading.
Use salon products to cleanse the hair and scalp.
Established and proper hair care with professional products is essential for hair health.
Start with a high-quality shampoo that fits your needs and hair type.
For instance, if your hair is coloured but also dry, select a high-quality shampoo that will maintain your hair's hydration and colour.
Both a hair treatments and a conditioner should be an essential part of your routine if you want your hair to look and feel its best.
Include salon treatments in your hair care
Salon treatments will significantly assist in restoring your hair's health because they are far better than at-home hair treatment.
You can start salon treatments once a month, but it's best to follow your hairdresser's advice if you think you might need more than one treatment a month.
B.A.M. Hair Salon experts recommend treatments from the TREAT.ME collection, inspired by the latest skincare ingredients.
Plant-based proteins help to strengthen and repair the daily damage caused by heat hairstyling and chemical treatments.
Choose from the range of treatments that include hydration, strengthening, thickening and anti-aging - it's like treating hair with a high-tech facial care!
Hacks for shiny hair
3 tips that will add shine while protecting your hair from damage.
The Heat Protection Spray
This is the number 1 product that should be in your hair styling routine.
As its name suggests, it protects our hair from heat.
So, if you're going to use heat on your hair, use a heat protection product or choose styling products from Kevin Murphy that already contain heat protection.
Add shine
Use a product that perfects the hairstyle and will add shine and reflect light back into the hair.
SHIMMER.SHINE is a mist treatment that doesn't oil the hair!
Spray your hairstyle as a final step and give it moisture and protection!
The shimmer it contains gives hair the desirable shine
and is available for blondes and brunettes!
The cold air
a useful tip for maintaining the style and giving your hair shine.
Adjust the blow dryer on cold air and dry the hair from the top to the bottom. This way you firm the hairstyle, and also shine your hair!
An exciting new fashion is coming to change the norm for brunettes!
For many years blonde hair has signified femininity and sexiness in women, but not in 2022!
Celebrities like Bella Hadid have made brown hair part of their look for years, but now we're even seeing famous blondes like Hailey Bieber going darker.
This is thanks to the now cutting-edge beauty trend that wants brown hair to be an expensive and sexy option that highlights natural looks and elevates style.
It's a multi-dimensional brown colour with depth and detail that makes even blondes want to darken their hair.
At B.A.M. Hair Salon more and more women are now asking for a subtle, natural looking results on their hair.
We achieve this by creating complementary, flattering warm brown colour tones such as brown beer, amber, honey...
The goal in natural hair lightening is to highlight the hair and face on dark-haired women in the right places and the best techniques to achieve this are highlights and balayage.
If you want to switch your blonde shade to a more autumnal (warm shade) quickly and easily,
you can simply add two highlights in front of the face and choose a coppery shade in a semi-permanent colour (toner or reflé). This shade will last from 2 to 4 weeks, and you will be able to return to your favourite blonde easily, without hassle and trouble! https://www.instagram.com/p/CVAlMhJIWE-/
Autumn blonde shades
Honey - copper
Beige - Caramel
Ginger beige - gold
Gold - honey
Since the summer break has come to an end and we've officially stepped into fall, we've put together a fall hair care bucket list for you! Get ready to check off all the things you need to do to take care of and style your hair this season.
I want: Keratin Treatment - Keratin Botox
If you postponed treatments like keratin or hair botox due to the summer, now is the time to prioritize smoothing your hair and reducing frizz. Get ready to kickstart your work and responsibilities routine with sleek and manageable hair!
You'll significantly cut down your styling time, giving you more room to tackle your busy daily life.
I want: Haircut Refresh
The time has come to give your hair a therapeutic trim at the ends to bring vitality and health to your hair. Combine it with the curtain bangs you've been thinking of trying for a while.
It's the perfect time to try out this hot look, especially now that the hot weather is over. This will determine if bangs are something you want to keep for the rest of the season as your new signature look.
I Want: Quality hair routine
Summer is gone and so are all the summer hair care products.
Create a new, minimal hair routine focusing on the needs of your hair.
A Good Quality shampoo, conditioner and hair tratment are the absolute essentials.
Finally, invest in good quality products and reduce waste in terms of money, time, and space on your bathroom shelves.
I want: Pumpkin Spice aesthetics
Pumpkin spice lattes and butternut squash soups are the must-have flavors of fall, so why not let them inspire your new hair color as well?
Give your blonde balayage a quick refresh by using a toner in copper or ginger shades. It's easy to go back to the blonde you love as the shade will fade over time and will reveal your favorite blonde again!
I Want: Hair Styling
Isn't it wonderful to have well-groomed, well-combed hair?
How we present ourselves to the outside world has a significant impact on our psychology.
Part of your overall styling is also the styling of your hair, as many times a nice outfit alone isn't enough.
So, play around with accessories, low buns, and braids in your hair to complete your style.
I Want: Organized appointments at the salon
Always book an appointment for your next visit at the hair salon during each visit, as advised by your hair expert.
Scheduling your appointments in advance will help ease your stress of last-minute booking, ensuring availability when you truly need it.
Quite often, people consider stylish hair to be an entirely female affair. However, being beautiful, well-groomed and looking after one's image is gender neutral.
And men who want to impress or improve their image should consider venturing further into their hair beyond a classic haircut.
Men's fashion in 2021 has a growing trend towards changing hair as far as colour and hairstyle is concerned. Here are some of the reasons why men should also consider taking advantage of experiencing a major hair change at B.A.M. Hair Salon. Hair Salon.
One of the benefits of the Balayage and Strobing technique is the enhanced effect it offers to the hair - short or long. By applying these techniques very carefully on specific parts of the head, the hair can be instantly transformed from dull to strikingly shiny and healthy hair for men.
Subtle highlights that blend with the natural hair colour can be so subtle that they can accentuate the shape of the face, skin colour and overall make the hair more noticeable.
The way in which the colour techniques will be done as well as the places where the highlights will be placed on the hair is a job that should be done by experienced professionals so that the colour fades evenly without the hair appearing to be dyed, but rather having a natural fade in colour.
Such hair change makes it an excellent way to show off man's personality and modern style.
Balayage can also be used to give the impression of natural texture to a hairstyle. This is particularly useful if the person has hair that is straight and long and by nature, lacks shape and lacks style. So, lightening the areas around the face will give the hair's appearance more dimension as well as texture.
It is important to keep in mind that highlights and balayage hair techniques serve a different purpose for men than for women. For men, highlights and balayage are meant to highlight small areas of hair, while women's highlighting often goes for a more overall and intense effect.
As we've outlined, the process to get the perfect hair flick is meticulous. The right color tones must be selected and carefully applied with professional techniques to get the best results.
Dare to make such a change yourself and elevate your image!