If your makeup changes within a few hours especially during the summer months, then you should read this helpful article by bamhairsalon expert Christina, even if you don't do full face make up!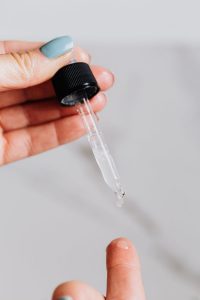 Prepare your skin
It is essential to have a facial routine that you follow strictly on a daily basis, depending on your skin type.
A well moisturized skin will help to get a flawless foundation finish without having an ugly texture on your foundation.
If you have a formal event to attend such as a wedding, do a great job of prepping your skin for deep hydration the night before.
The next day, cleanse your face with a light soap and avoid wearing facial moisturizer immediately before you start your makeup.
Ideally after cleansing with the soap, wear a hyaluronic acid serum and let it absorb for at least an hour before you start your makeup or even better, do this simple routine in the morning as soon as you wake up.
Skin preparation before foundation
Before you start applying foundation, apply primer to face and eyes. A primer is a cream product that is applied before foundation.
Choose a primer according to your needs:
a) If you want to reduce pores, choose a primer that will help improve skin texture and reduce the appearance of deep pores
b) If you want your skin to radiate, choose a primer with a metallic tint so your skin radiates shine.
The first setting
Use setting spray to your face and wait 1 minute for it to be absorbed by the skin.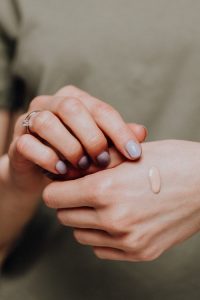 Foundation
It's foundation time!
It's very important that the foundation you use is for your skin type, and is as stable as your concealer.
Apply a light 1st layer of foundation on your face and repeat with a 2nd layer especially on the areas that need coverage.
Avoid using too much foundation in places like under the eyes, between the eyebrows and forehead, and on the nostrils.
Use concealer for better coverage after foundation for better results under the eyes, but also to highlight the high points of your face.
The second setting
Use setting spray again to set the foundation well into the skin.
Wait 1 to 2 minutes for the product to absorb before continuing your makeup application.
Powder products vs. cream products
After applying the foundation to your face, it is very important to arrange your makeup products in the right order.
Remember that cream products go after foundation.
For a consistent makeup look, we don't recommend using cream products alone.
It would be a good idea to top it off with a powder product.
For example, if you have a creamy product to make contouring, the right time to apply it is after the foundation and on top of that you can reapply it with a bronzer powder.
The same goes for blush and eyeshadows.
Lips and eyes
To make your lipstick firmer, apply concealer to your lips first. This will create a neutral and firm base where the colour you choose will come out much cleaner and more even.
After the concealer, use a lip pencil the same colour as your lipstick.
Paint the entire surface of the lips, not just the outline.
Finally, apply your lipstick to give the final effect to your lips.
You can use the same principle for your eye makeup. If you've applied primer to the eyes, you don't need to apply concealer, unless there are strong discolorations. The concealer will mainly serve that purpose.
8. Firming up the makeup
To firm up the makeup you have created, go over your face and especially places like under the eyes, T-zone, nostrils with a transparent light powder.
With the powder you will make the effect more matte and stop the burst of oil from the sensitive parts of the face.
Add sparkle
Sparkle in makeup is a must.
Use highlighter in powder form and not cream on the high points of the face like the cheekbones.
The reason why highlighter comes in as a second to last step for a solid makeup application is because before you have set powder to your face, any creamy product will mess up the whole makeup texture creating intense patches that you won't be able to fix locally.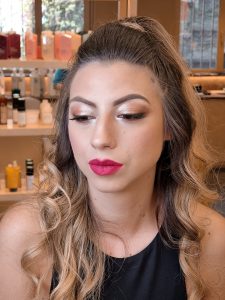 The final set-up
Once you've perfected your makeup and taken care of all these details, use setting spray one last time.
The setting spray is the 3rd of the 10 steps to a solid makeup look. Don't skip it!
The primer also carries the same weight because is meant to hold the foundation in place for hours.
We hope we've helped you with these 10 steps to a solid makeup look!
You can apply any of these for a more casual, everyday or all of them together for an evening makeup look!
Remember that evening makeup, or makeup that we want to last for hours, is usually heavier and it's hard to overlook steps.
Remember that the makeup process is an enjoyable process that in the end brings an impressive result!
Take your time and enjoy it!