The world of hair color and styling is constantly evolving, with trends coming and going like the seasons.
Among these trends, one that has stood the test of time is balayage.
This freehand coloring technique offers a natural, sun-kissed effect that has taken the hair industry by storm
But what if you have black hair?
Can you achieve a stunning balayage look on dyed black hair?
In this article, we'll delve into the possibilities and considerations, for a balayage transformation on dyed lack hair.
Balayage on Dyed Black Hair: Is it Possible?
The answer is a resounding yes – you can absolutely achieve balayage on dyed black hair.
Balayage is a versatile coloring technique that can work its magic on various hair types and shades, including dyed black hair.
However, there are some essential considerations to keep in mind.
1. Gradual Lightening is Key
Transitioning from dyed black hair to a balayage look involves a gradual lightening process.
Black hair contains a high concentration of pigment, making it a bit more challenging to achieve lighter tones. Your journey to balayage might require multiple sessions with a professional stylist to avoid excessive damage and breakage. Patience is paramount in this transformation.
2. Expertise Matters
Achieving the perfect balayage on dyed black hair requires the expertise of a skilled stylist. . The hair experts at bamhairsalon specialize in various hair coloring techniques, even in cases where hair needs color correction due to previous dyeing techniques
The goal is always the good health and quality of your hair so that you can enjoy the balayage technique.
3. Hair Treatments are Essential
Maintaining the health of your hair throughout the balayage process is crucial.
Maintaining the health of your hair before and during the balayage process is crucial.
Dyed black hair can become fragile, so investing in hair treatments is a must. Deep conditioning treatments, regular trims, and the use of quality hair products will help keep your hair strong, hydrated, and ready for the transformation.
How Light Can You Go with Balayage on Dyed Black Hair?
The degree of lightness you can achieve on dyed black hair through balayage depends on several factors:
Current Hair Color: The starting point matters. If your hair is jet black, reaching a platinum blonde balayage might require more time and sessions compared to someone with dark brown dyed hair.
Hair Health: The healthier your hair is, the better it can withstand the lightening process. Regular treatments and maintenance are essential to achieve the desired lightness.
Patience and Expectations: Choosing the perfect shade for you can be an unrealistic scenario. Collaboration with your hair expert is crucial to ensure the process is done correctly without sacrificing hair quality. It may require more time and effort to achieve a very bright result, but the final outcome will be worth it.
Shades to Expect for Your First Balayage on Dyed Black Hair
When transitioning from dyed black hair to a balayage look in your first session, the achievable shades will depend on various factors, including your natural hair color, the current black dye shade, and your hair's condition. Here are some popular shades to expect or consider:
Dark Caramel or Toffee Balayage:
If you're looking for a subtle, sun-kissed effect, dark caramel or toffee tones can be an excellent choice. These shades can enhance your black hair with a gentle transition to lighter highlights.
Rich Chocolate Balayage:
If you want to maintain depth and richness in your hair, rich chocolate brown balayage is a versatile option. It blends beautifully with black hair and adds dimension without dramatically lightening your overall look.
4. Auburn or Mahogany Balayage:
Add touches of red-brown or red-violet undertones to your hair. These shades can add depth and a hint of red without straying too far from your natural color spectrum
Remember that the shades you can achieve during your first balayage session on dyed black hair will be influenced by your hair's starting color and condition.
The hair expert at bamhairsalon will collaborate with you to create a personalized color that aligns with your preferences and ensures a beautiful, natural color transition
In conclusion, whether you opt for subtle highlights or more dramatic contrasts, balayage on dyed black hair can result in a stunning and unique transformation.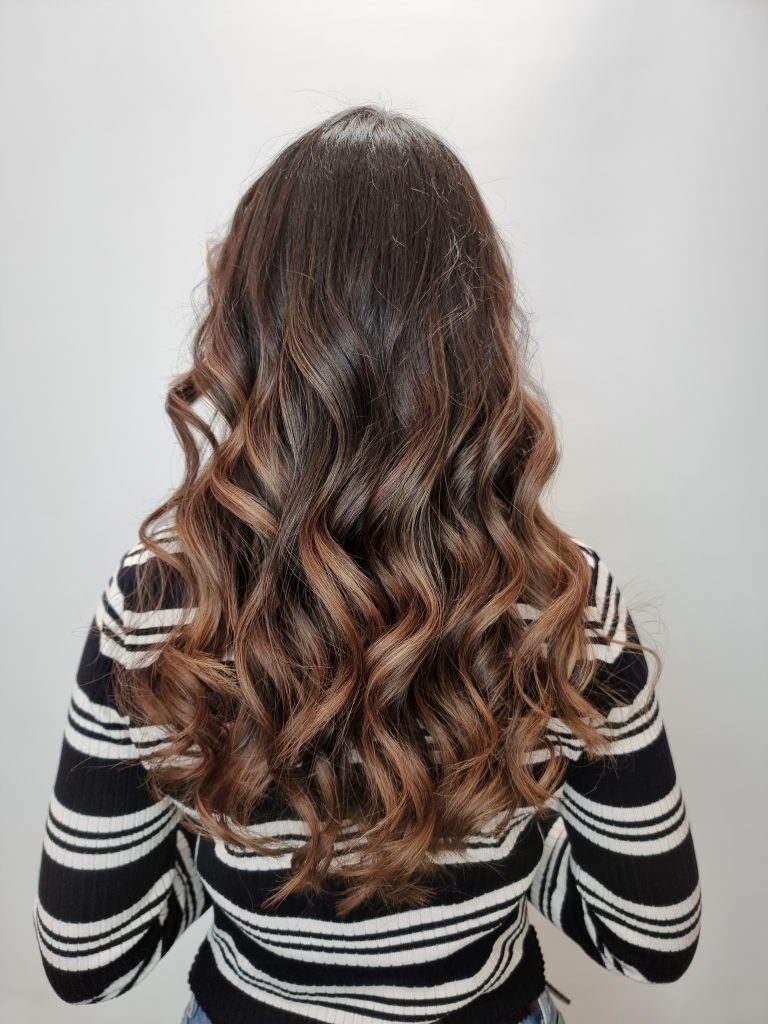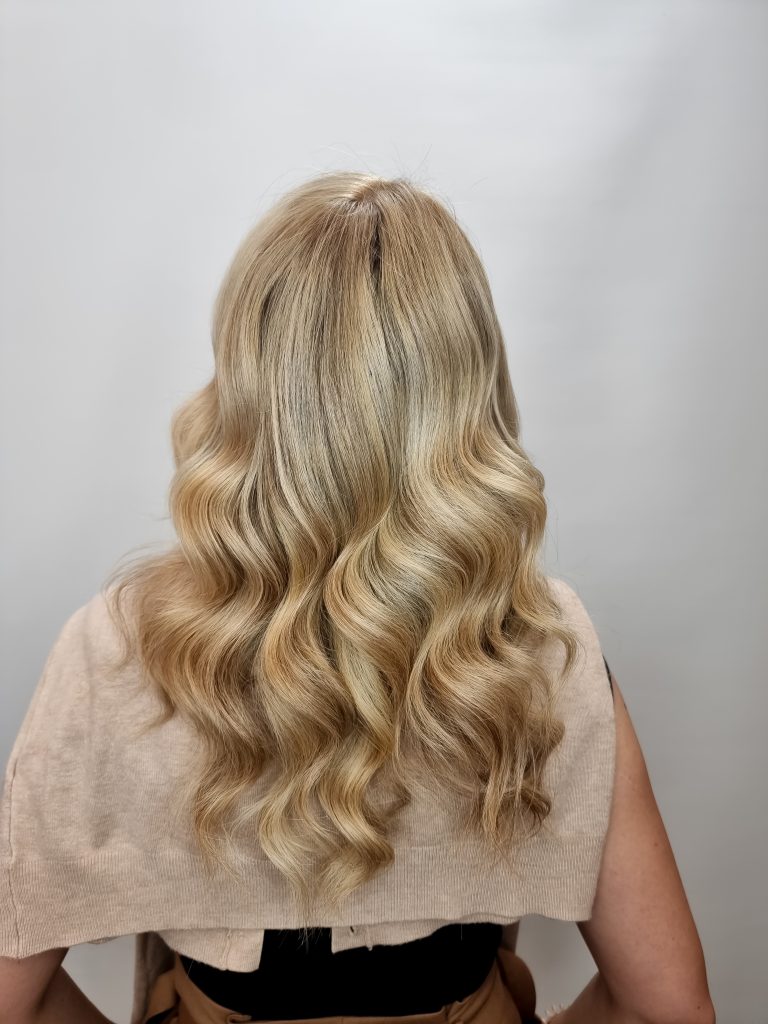 Should I do Balayage or Highlights?
The great debate between the two most popular hair techniques has divided you?
The hair experts at bamhairsalon are here to explain the differences and the criteria to choose the appropriate technique for your hair, style, and budget.
Differences between Balayage and Highlights:
In Balayage, we have a gentle transition from the root color towards the hair ends, keeping the root coOn the other hand, with highlights, we take many fine sections from the root to the hair ends with almost no darker intermediate sections.lor and some intermediate hair sections in a darker shade.
In both cases, the use of aluminum foil on the hair (mainly with highlights) helps us to lift the hair color to a high level to achieve the desired blonde shade.
In Balayage, the use of aluminum foil is not always necessary if we don't want to achieve a very light blonde lift.
Baby lights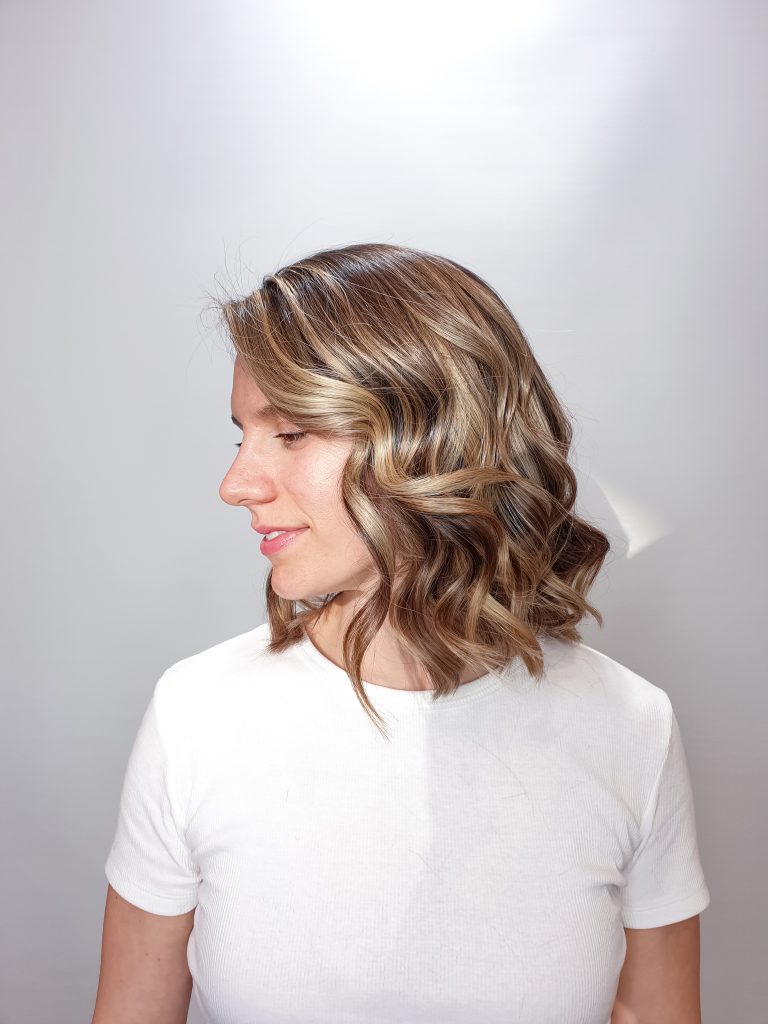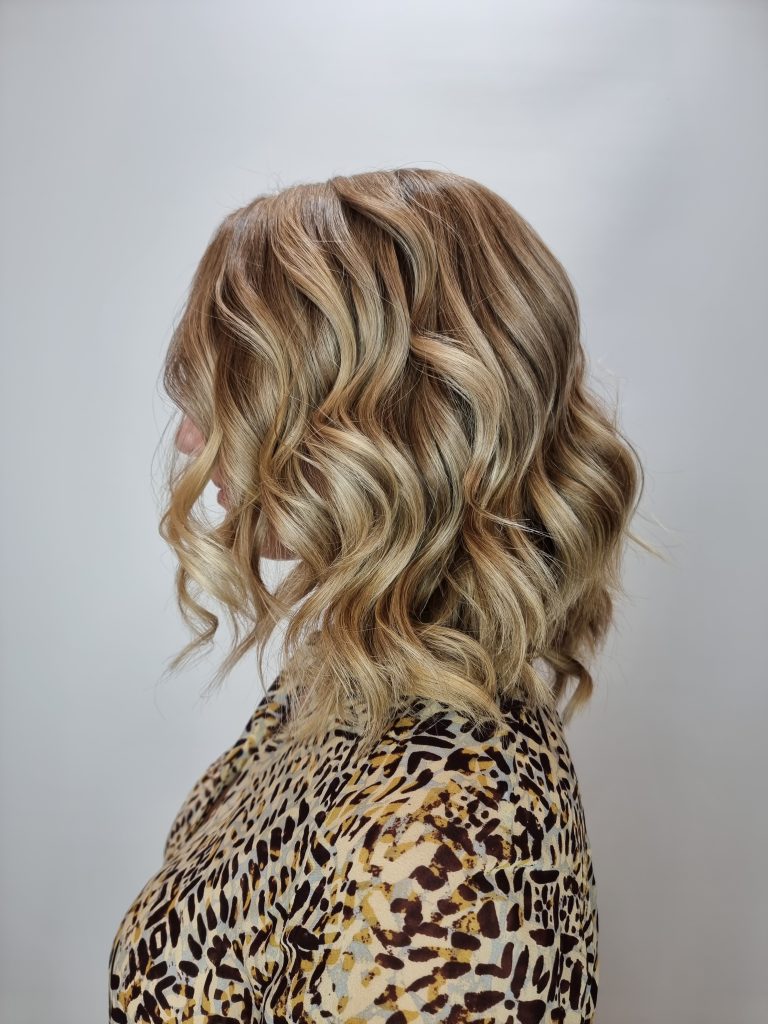 Baby lights are very fine and soft highlights that fade towards the root, with the purpose of looking absolutely natural. That is why they blend beautifully with the Balayage technique, which results in naturally lifted ends.
Very often, you will see this combination of techniques referred to as Baby Balayage.
With what criteria should I choose?
1. How blonde do you want to become or remain
2. Based on the maintenance required
If you desire a luxurious overall blonde color as a result, we recommend highlights.
If you want a low-maintenance technique, we recommend Balayage or Baby Balayage (the combination of baby lights and Balayage techniques). If done correctly and uniformly from the beginning, it can still look great even as your hair grows out.
This is not the case with highlights, as their maintenance should be done every 6 weeks or so.
Results of techniques - Before & Afters
Since the summer break has come to an end and we've officially stepped into fall, we've put together a fall hair care bucket list for you! Get ready to check off all the things you need to do to take care of and style your hair this season.
I want: Keratin Treatment - Keratin Botox
If you postponed treatments like keratin or hair botox due to the summer, now is the time to prioritize smoothing your hair and reducing frizz. Get ready to kickstart your work and responsibilities routine with sleek and manageable hair!
You'll significantly cut down your styling time, giving you more room to tackle your busy daily life.
I want: Haircut Refresh
The time has come to give your hair a therapeutic trim at the ends to bring vitality and health to your hair. Combine it with the curtain bangs you've been thinking of trying for a while.
It's the perfect time to try out this hot look, especially now that the hot weather is over. This will determine if bangs are something you want to keep for the rest of the season as your new signature look.
I Want: Quality hair routine
Summer is gone and so are all the summer hair care products.
Create a new, minimal hair routine focusing on the needs of your hair.
A Good Quality shampoo, conditioner and hair tratment are the absolute essentials.
Finally, invest in good quality products and reduce waste in terms of money, time, and space on your bathroom shelves.
I want: Pumpkin Spice aesthetics
Pumpkin spice lattes and butternut squash soups are the must-have flavors of fall, so why not let them inspire your new hair color as well?
Give your blonde balayage a quick refresh by using a toner in copper or ginger shades. It's easy to go back to the blonde you love as the shade will fade over time and will reveal your favorite blonde again!
I Want: Hair Styling
Isn't it wonderful to have well-groomed, well-combed hair?
How we present ourselves to the outside world has a significant impact on our psychology.
Part of your overall styling is also the styling of your hair, as many times a nice outfit alone isn't enough.
So, play around with accessories, low buns, and braids in your hair to complete your style.
I Want: Organized appointments at the salon
Always book an appointment for your next visit at the hair salon during each visit, as advised by your hair expert.
Scheduling your appointments in advance will help ease your stress of last-minute booking, ensuring availability when you truly need it.
Σε αυτό το βίντεο διαβάζουμε τις κριτικές των πελατών μας στο bamhairsalon στο Χαλάνδρι!
Ευχαριστούμε όλους όσους άφησαν τις κριτικές τους για το κομμωτήριο μας στη google !
Είναι κάτι που μας βοηθάει για τη δική σας καλή εξυπηρέτηση και εμπειρία στο κομμωτήριο μας!
Συνεχίστε να αφήνετε τις κριτικές σας για να κάνουμε την κοινότητα μας καλύτερη!
SUBSCRIBE: https://www.youtube.com/channel/UCxiLIcO-Bl76vXahzH4_9Zg?view_as=subscriber
INSTAGRAM: BAM Hair Salon @bamhairsalon.grhttps://www.instagram.com/bamhairsalon.gr/
FACEBOOK: beauty_affects_mind https://www.facebook.com/beautyaffectsmind
You dyed your hair with the most favourite and popular hair technique, balayage. Now what?
You already know very well that bleached hair is more delicate. Taking proper care of them is key to keeping them healthy and avoiding damage.
One of the most important tips we give to our bamhairsalon friends who have discoloured hair, is to reduce the use of thermal tools for styling.
But how shall I do my hair? We hear you say.
Balayage is really a wonderful technique for elegant women, and it looks best when combed. Or thoroughly sloppy combed if you want to have the ultimate look of the day. Based on this philosophy we will cover in today's article:
1.elegance
2.convenience and
3. carelessness
To protect your hair from the heat and enhance your colour, we've compiled a list of our favourite balayage hairstyles below.
1. Curls
No need to curl your hair with a curling iron or curling scissors as you can braid them into a ribbon in just 10 minutes, go to sleep at night and wake up the next day with gorgeous curls!
Check out our heatless curl technique.
2. Thoroughly sloppy bun
If your hair is straight and you want to create your bun in curly hair, then create the curls without heat and the next day when you untie your hair; create this easy bun that we show you in this video!
3. Put a scarf in your hair.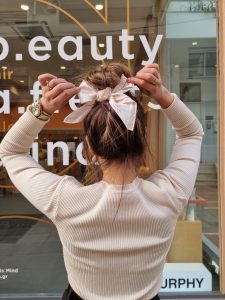 Whether in a low bun or a high bun, try adding a scarf to your hair to upgrade your hairstyle!
We have videos of 3 super easy hairstyles with scarves on our YouTube channel! Pay close attention to this video on how to properly and firmly secure a scarf to the hair for a more stable and easy result!Whether in a low bun or a high bun, try adding a scarf to your hair to upgrade your hairstyle!
Create easy chignons with accessories like scrunches, bangles, and bobby pins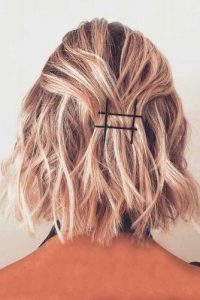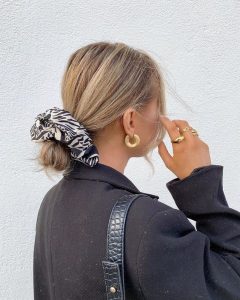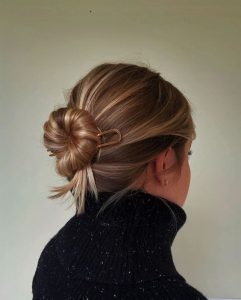 You'll only need 5 minutes to create these easy chignons that will bring out your sun-kissed colour hair!
5. Braid your hair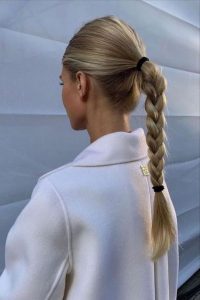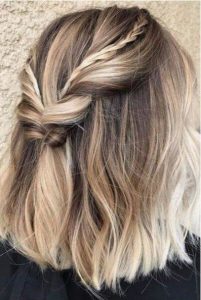 Braids and hair twist in hair with balayage technique will show off your new colour, protect your hair and give you a look that you can keep from the morning at work to the evening for a drink with your friends!
You have nothing to lose! All that's left is to learn how to manage your new hair to create an easily chic style! Experiment with easy hairstyles that will not only protect your colour but show it off at the same time!
Style is the inner glow you project to the outside world in perfect harmony with your image and your tastes and preferences.
For those busy women that still find time to take care themselves, finding the best clothes that highlight their image is not enough. What really highlights and enhances their image are the accessories. And the most spectacular one is the hairstyle.
Chic Style
The hair colour of an elegant woman should be aligned with the skin tone, to perfect a glamorous look.
Even if you dare to opt for trendy and fashion colours for your hair, you can still look glamorous and elegant by following our recommendations such as matching your hair colour with your skin tone
There are three skin tones
Cool skin tone
Warm skin tone
Neutral skin tone
As far as haircut the options are limitless to achieve an elegant and expensive look. Both short and long haircuts can serve that purpose.
The haircut you will choose it should be according to your hair type, flatter your face shape and its characteristics, and boost your confidence.
The key to achieve an elegance look is to take care the health and appearance of your hair.
Health is what makes us radiate confidence and charm.
Romantic Chic Style
Hairstyles
If you are this type of girl who prefers more romantic style, dresses with comfortable dresses, selects floral prints and pastel colours, then we recommend you sparce curls and wavy styling for any type of hair length.
Not to mention that sloppy buns provide a certain romanticism to your style especially for long or medium length hair.
Haircuts
If you prefer very short hair we recommend you to allow some lengths on top of the head just to have more styling options. Fringes can also support this look, as they make your face look more charming.
Colour
Short blonde hair dyed according to your skin tone or pastel colour applied with the appropriate technique will fulfil your personal style.
Chic Corporate Office Style
If your lifestyle is defined by your career and your dress style is blazers, suits and corporate look, then simplicity on your haircuts will enforce your professionalism.
Hairstyles
To enforce this professional look, we suggest you to try wear your hair sleek and shiny. Also, hair pulled back in a strict bun combined with parting your hair (sideways or in the middle) can provide a corporate look. Furthermore, to cement the professional look, you can try loose but not sloppy curls and blow dry styling providing volume on top and ends slightly turned.
Colour
You should opt for natural blonde tones, dark brown and copper red tones.
Fashion colours are not the best option for this look.
Haircuts
Medium length haircuts and short frames in strict lines fit perfectly to the corporative look.
Contemporary Style
By Contemporary we don't just mean the modern woman,
but rather the woman who embraces class, minimalism and her unique sense of fashion and style.
She loves monochromatic and neutral natural colours in her outfits and always enhances her style by wearing jewellery.
Hairstyles
Wet look, smooth and low buns, minimally styled hair, and of course the use of clips and subtle hair accessories.
Colour
Natural tones, close enough to the natural colour of the hair without complex techniques.
Haircuts
Everything from long, and very short hair to shaved all over the head.
The haircut is a key styling element and if done correct and to the spot it will look like it has come off the catwalk.
Student style
If you are from 18 to 25 years old, and likely a student, then you probably try different styles very often. You always try something different with your hairstyle and make-up as you follow the fast-changing fashion trends.
You are in that period of your life where you can support literally everything!
Hairstyles
You can support everything from cute space and sloppy buns to your natural hairstyle. However,every hairstyle must align with your mood!
Hairstyles
Since you can support literally everything, why not try something a little more extreme and fashion forward? Cut your hair like in a fashion editorial and stand out for your great sense of style.
Colour
You are in that age that you do not have to dye your hair to cover any unwelcomed white hair. So, do it right!
Try intense colours or complex techniques to cement your personal style and personality! However, always seek professional help when dying your hair, especially for the first time, as any accidental mistake on the technique might have a negative effect in case you want to try some hair techniques in the future.
In a previous article we present you the hottest haircuts for 2020. As a follow up here you can find the 5 trendy hair colours for 2020.
Explore the top 5 colour techniques we recommend for 2020 that you definitely have to try!
1. Colour Contrast
Intense colour only at the root around the head.
A dramatic and bold technique for the very daring or fans of Billie Eilis.
2. Business Up front Party in the back!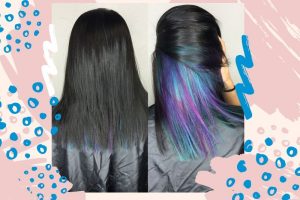 Strong colours of your choice are combined and placed on the back of the head hidden and pop out only by the movement of the hair. Suitable for those who don't want to commit to a colour refresh, or their social status doesn't allow for daring hair colour changes!
This look is all about the element of surprise!
3. Dip dyed ends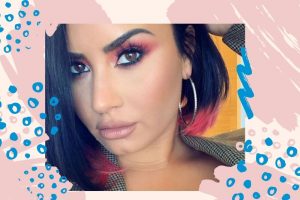 This technique is all about adding intense colour only to the ends of your hair. It has nothing to do with the Balayage or Ombre technique.
A very safe option for those who are afraid or don't want to put intense colour in the most part of their hair like a balayage.
It's a modern and safe way to make a statement look and works perfectly with short frames too!
Balayage technique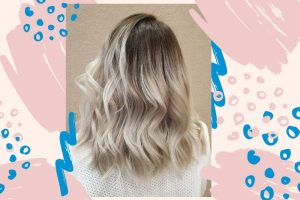 A very famous technique! Whether in natural shades or intense colours, this technique is for you who doesn't want to commit to a colour renewal every 1 to 1.5 months.
Money Piece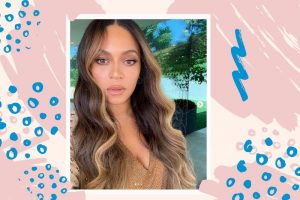 We are not quite sure where the name for this technique came from.
Basically, the money piece are highlights that frame the face beautifully and it combines wonderfully with the balayage technique
Σε αυτό το βίντεο απαντάμε στις πιο συχνές ερωτήσεις μαλλιών. Όσα ΠΡΕΠΕΙ να γνωρίζεις αν έχεις βαμμένα μαλλιά ή σκέφτεσαι να τα βάψεις!
Blonde is one of the favourite hair colours and it may look shiny and healthy without effort when celebrities wear it, in reality it is a colour that requires tremendous care and attention.
If you are thinking about changing your hair to blonde or you are one of those women who dye their hair blonde and find it difficult to maintain it shiny, beautiful, and healthy without fading and unwanted colour tones, keep reading because this article will help you adopt a proper dyed blonde hair care routine.
1.Use a combination of shampoo and conditioner especially for coloured blonde hair.
As soon as you dye your hair blonde you should immediately change the products you were using to a special shampoo and conditioner for dyed blonde hair.
The shampoo and conditioner you choose should be scalp friendly, highly moisturizing, and help remove unwanted colour tones.
Purple shampoo is very important to use in between in your routine, alternatively you can buy purple shampoo which is milder and can be used as a regular shampoo.
2. Do frequent treatments at home and at the salon
Hair treatments are necessary at least once per week at home, always depending on what your hair needs. Use a hair treatment specifically for dyed blonde hair and follow the instructions for proper results. It is essential to have hair treatment in the salon by professionals at least once a month.
3. Avoid frequent washing
Frequent shampooing does not help to maintain the colour, so limit shampooing to twice a week to maintain the colour.
4. Avoid frequent styling with heating tools
Styling tools such as blow dryers and hair irons damage hair especially when it has been discoloured. We hate to say it but frequent use of heat on dyed blonde hair can burn it, create a lot of split ends, and then a haircut is necessary to bring it back.
That does not mean that you have to sacrifice your hairstyle. Seriously, the options here are limitless even with no heat at all. To be more specific, from an effortless sloppy bun, to wavy hairstyle with help of hair rollers, or ponytail, and French braids. Also, if you try scarfs on your hairstyle you will appear neat, elegant and stylish.
Extra Attention: When you use heat styling tools, don't forget to apply heat protection product to protect your hair from the heat beforehand!
5. 5. Never dye your hair blonde by yourself!
Blonde colour is very difficult to achieve especially if you change from dark to blonde. This transition requires proper diagnosis by hair experts and knowledge which no internet article can provide.
Find the colourist and hair expert you trust and then you will have the best hair you've always wanted.
Also, if you are turning your brunette colour into blonde for the first time, a good recommendation is to try the contemporary balayage technique. This technique is definitely more friendly for your hair. Balayage will allow you to keep your natural colour at the roots and progressively highlight your mids and ends. Also, it will help the transition look more natural since you won't have the problem to dye your hair all at once and the result won't look natural.
In that way you will avoid often visits at the salon to keep dyeing your roots and damage your hair along the way.
Use the above recommendations and listen your hair expert if you want to have the best blonde, health and shiny hair out there!