The world of hair color and styling is constantly evolving, with trends coming and going like the seasons.
Among these trends, one that has stood the test of time is balayage.
This freehand coloring technique offers a natural, sun-kissed effect that has taken the hair industry by storm
But what if you have black hair?
Can you achieve a stunning balayage look on dyed black hair?
In this article, we'll delve into the possibilities and considerations, for a balayage transformation on dyed lack hair.
Balayage on Dyed Black Hair: Is it Possible?
The answer is a resounding yes – you can absolutely achieve balayage on dyed black hair.
Balayage is a versatile coloring technique that can work its magic on various hair types and shades, including dyed black hair.
However, there are some essential considerations to keep in mind.
1. Gradual Lightening is Key
Transitioning from dyed black hair to a balayage look involves a gradual lightening process.
Black hair contains a high concentration of pigment, making it a bit more challenging to achieve lighter tones. Your journey to balayage might require multiple sessions with a professional stylist to avoid excessive damage and breakage. Patience is paramount in this transformation.
2. Expertise Matters
Achieving the perfect balayage on dyed black hair requires the expertise of a skilled stylist. . The hair experts at bamhairsalon specialize in various hair coloring techniques, even in cases where hair needs color correction due to previous dyeing techniques
The goal is always the good health and quality of your hair so that you can enjoy the balayage technique.
3. Hair Treatments are Essential
Maintaining the health of your hair throughout the balayage process is crucial.
Maintaining the health of your hair before and during the balayage process is crucial.
Dyed black hair can become fragile, so investing in hair treatments is a must. Deep conditioning treatments, regular trims, and the use of quality hair products will help keep your hair strong, hydrated, and ready for the transformation.
How Light Can You Go with Balayage on Dyed Black Hair?
The degree of lightness you can achieve on dyed black hair through balayage depends on several factors:
Current Hair Color: The starting point matters. If your hair is jet black, reaching a platinum blonde balayage might require more time and sessions compared to someone with dark brown dyed hair.
Hair Health: The healthier your hair is, the better it can withstand the lightening process. Regular treatments and maintenance are essential to achieve the desired lightness.
Patience and Expectations: Choosing the perfect shade for you can be an unrealistic scenario. Collaboration with your hair expert is crucial to ensure the process is done correctly without sacrificing hair quality. It may require more time and effort to achieve a very bright result, but the final outcome will be worth it.
Shades to Expect for Your First Balayage on Dyed Black Hair
When transitioning from dyed black hair to a balayage look in your first session, the achievable shades will depend on various factors, including your natural hair color, the current black dye shade, and your hair's condition. Here are some popular shades to expect or consider:
Dark Caramel or Toffee Balayage:
If you're looking for a subtle, sun-kissed effect, dark caramel or toffee tones can be an excellent choice. These shades can enhance your black hair with a gentle transition to lighter highlights.
Rich Chocolate Balayage:
If you want to maintain depth and richness in your hair, rich chocolate brown balayage is a versatile option. It blends beautifully with black hair and adds dimension without dramatically lightening your overall look.
4. Auburn or Mahogany Balayage:
Add touches of red-brown or red-violet undertones to your hair. These shades can add depth and a hint of red without straying too far from your natural color spectrum
Remember that the shades you can achieve during your first balayage session on dyed black hair will be influenced by your hair's starting color and condition.
The hair expert at bamhairsalon will collaborate with you to create a personalized color that aligns with your preferences and ensures a beautiful, natural color transition
In conclusion, whether you opt for subtle highlights or more dramatic contrasts, balayage on dyed black hair can result in a stunning and unique transformation.
Balayage is the most popular hair coloring technique at bamhairsalon, and "natural balayage" is how our clients request it!
This hair coloring technique is done without aluminum foils, using hair-friendly products with a low lifting effect and cosmetic value, such as toner or gloss, to achieve a natural-looking balayage on curls and waves
Our goal with this hair coloring technique is a natural result, the very popular sun-kissed balayage.
While balayage is usually associated with straight hair, it is the best hair technique if you have curls or natural wavy hair.
Below we will see the reasons why the hair experts at bamhairsalon consider balayage the most flattering hair coloring technique for curly hair.
One of the reasons why balayage looks so beautiful on curly hair is that it creates dimension, depth, and texture, making the curls appear even more voluminous, shiny, and well-formed.
At bamhairsalon, the placement of the dye is done strategically to enhance the natural texture of curly and wavy hair.
This is particularly important for curly hair, as natural curls often appear flatter and one-dimensional.
Therefore, with balayage, a final color is created that looks as if it were natural, enhancing the curls' natural beauty and giving them more depth and dimension."
We should also add that balayage on curly hair is a low-maintenance option.
This means that with a proper care and routine at home, it can look perfect over the months without the need for a monthly visit to the hairdresser for its renewal.
In conclusion, the hair experts at bamhairsalon recommend balayage on curly and wavy hair because it upgrades the hair style in an unpretentious way, making curly hair luxurious and easy to wear.
Below you can see some before & after balayage for curly hair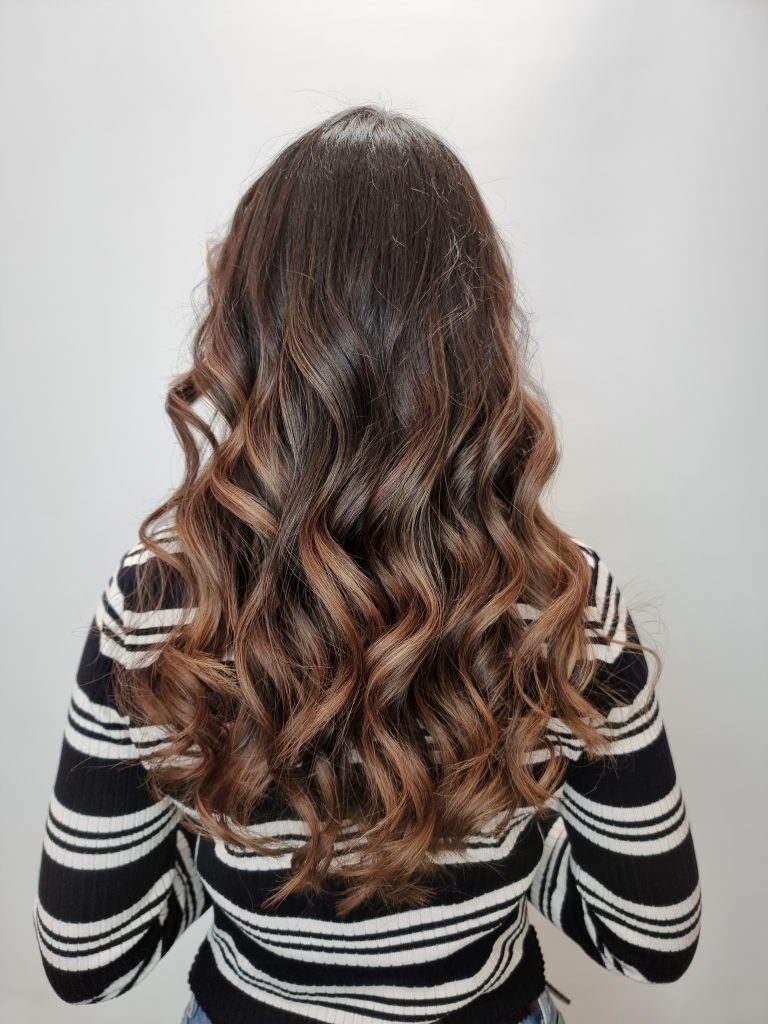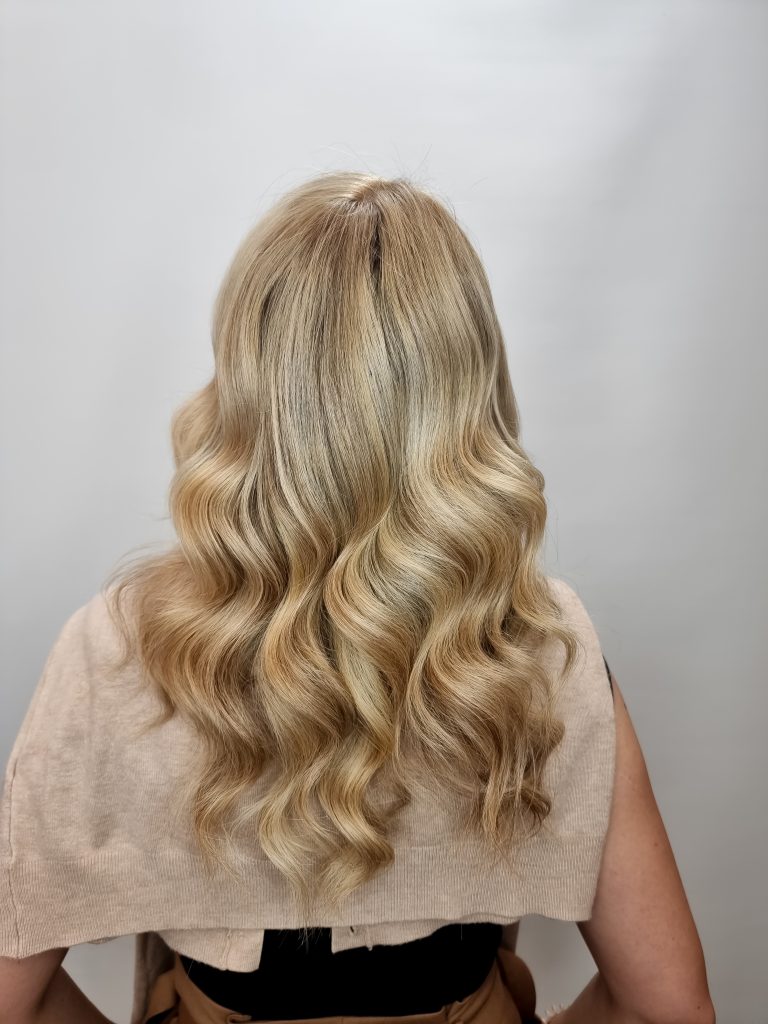 Should I do Balayage or Highlights?
The great debate between the two most popular hair techniques has divided you?
The hair experts at bamhairsalon are here to explain the differences and the criteria to choose the appropriate technique for your hair, style, and budget.
Differences between Balayage and Highlights:
In Balayage, we have a gentle transition from the root color towards the hair ends, keeping the root coOn the other hand, with highlights, we take many fine sections from the root to the hair ends with almost no darker intermediate sections.lor and some intermediate hair sections in a darker shade.
In both cases, the use of aluminum foil on the hair (mainly with highlights) helps us to lift the hair color to a high level to achieve the desired blonde shade.
In Balayage, the use of aluminum foil is not always necessary if we don't want to achieve a very light blonde lift.
Baby lights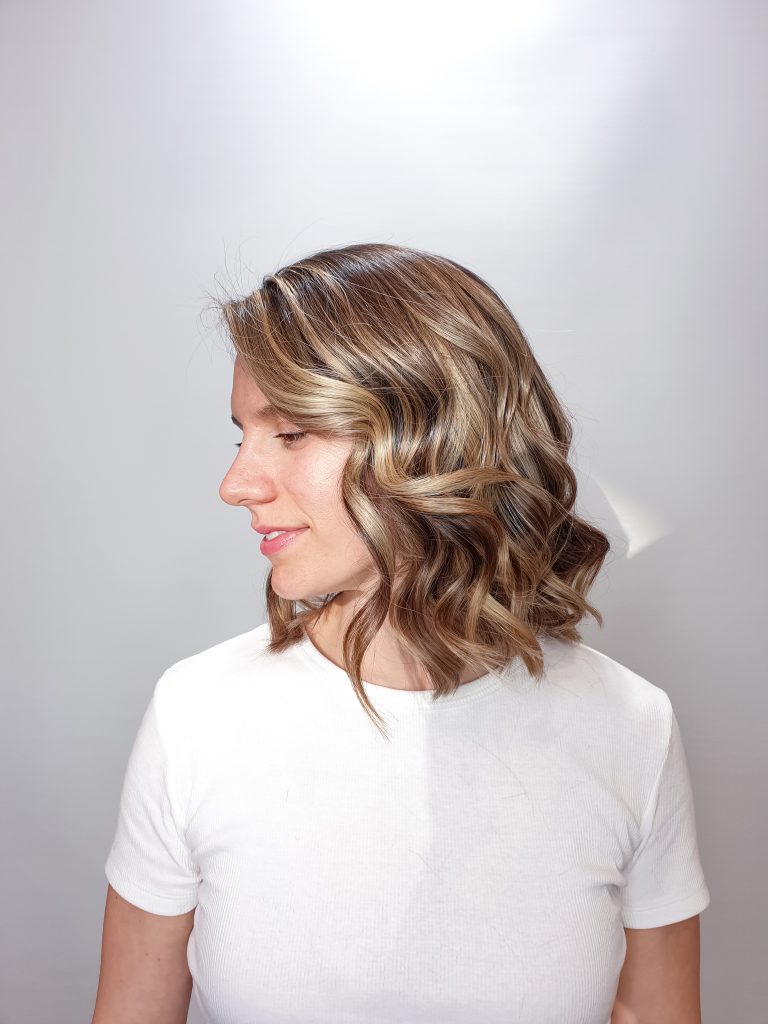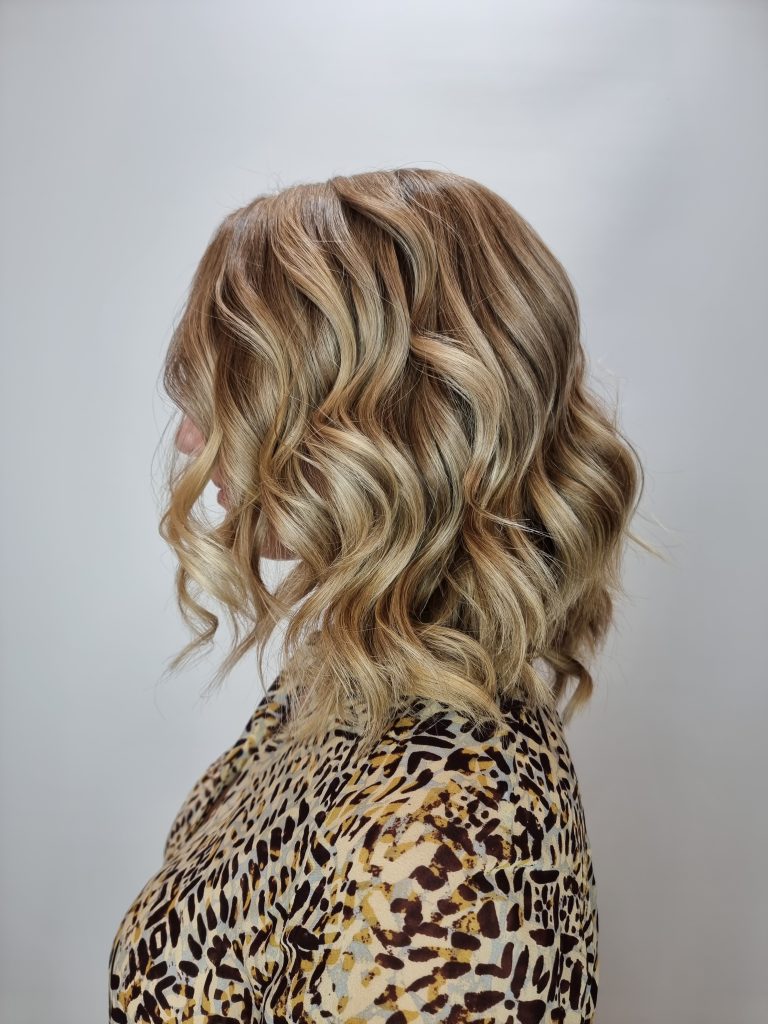 Baby lights are very fine and soft highlights that fade towards the root, with the purpose of looking absolutely natural. That is why they blend beautifully with the Balayage technique, which results in naturally lifted ends.
Very often, you will see this combination of techniques referred to as Baby Balayage.
With what criteria should I choose?
1. How blonde do you want to become or remain
2. Based on the maintenance required
If you desire a luxurious overall blonde color as a result, we recommend highlights.
If you want a low-maintenance technique, we recommend Balayage or Baby Balayage (the combination of baby lights and Balayage techniques). If done correctly and uniformly from the beginning, it can still look great even as your hair grows out.
This is not the case with highlights, as their maintenance should be done every 6 weeks or so.
Results of techniques - Before & Afters
An exciting new fashion is coming to change the norm for brunettes!
For many years blonde hair has signified femininity and sexiness in women, but not in 2022!
Celebrities like Bella Hadid have made brown hair part of their look for years, but now we're even seeing famous blondes like Hailey Bieber going darker.
This is thanks to the now cutting-edge beauty trend that wants brown hair to be an expensive and sexy option that highlights natural looks and elevates style.
It's a multi-dimensional brown colour with depth and detail that makes even blondes want to darken their hair.
At B.A.M. Hair Salon more and more women are now asking for a subtle, natural looking results on their hair.
We achieve this by creating complementary, flattering warm brown colour tones such as brown beer, amber, honey...
The goal in natural hair lightening is to highlight the hair and face on dark-haired women in the right places and the best techniques to achieve this are highlights and balayage.
If you want to switch your blonde shade to a more autumnal (warm shade) quickly and easily,
you can simply add two highlights in front of the face and choose a coppery shade in a semi-permanent colour (toner or reflé). This shade will last from 2 to 4 weeks, and you will be able to return to your favourite blonde easily, without hassle and trouble! https://www.instagram.com/p/CVAlMhJIWE-/
Autumn blonde shades
Honey - copper
Beige - Caramel
Ginger beige - gold
Gold - honey
Since the summer break has come to an end and we've officially stepped into fall, we've put together a fall hair care bucket list for you! Get ready to check off all the things you need to do to take care of and style your hair this season.
I want: Keratin Treatment - Keratin Botox
If you postponed treatments like keratin or hair botox due to the summer, now is the time to prioritize smoothing your hair and reducing frizz. Get ready to kickstart your work and responsibilities routine with sleek and manageable hair!
You'll significantly cut down your styling time, giving you more room to tackle your busy daily life.
I want: Haircut Refresh
The time has come to give your hair a therapeutic trim at the ends to bring vitality and health to your hair. Combine it with the curtain bangs you've been thinking of trying for a while.
It's the perfect time to try out this hot look, especially now that the hot weather is over. This will determine if bangs are something you want to keep for the rest of the season as your new signature look.
I Want: Quality hair routine
Summer is gone and so are all the summer hair care products.
Create a new, minimal hair routine focusing on the needs of your hair.
A Good Quality shampoo, conditioner and hair tratment are the absolute essentials.
Finally, invest in good quality products and reduce waste in terms of money, time, and space on your bathroom shelves.
I want: Pumpkin Spice aesthetics
Pumpkin spice lattes and butternut squash soups are the must-have flavors of fall, so why not let them inspire your new hair color as well?
Give your blonde balayage a quick refresh by using a toner in copper or ginger shades. It's easy to go back to the blonde you love as the shade will fade over time and will reveal your favorite blonde again!
I Want: Hair Styling
Isn't it wonderful to have well-groomed, well-combed hair?
How we present ourselves to the outside world has a significant impact on our psychology.
Part of your overall styling is also the styling of your hair, as many times a nice outfit alone isn't enough.
So, play around with accessories, low buns, and braids in your hair to complete your style.
I Want: Organized appointments at the salon
Always book an appointment for your next visit at the hair salon during each visit, as advised by your hair expert.
Scheduling your appointments in advance will help ease your stress of last-minute booking, ensuring availability when you truly need it.
Balayage is the favourite hair technique of women, and definitely the most popular and sought-after for 2021.
Usually, it is about highlighting tufts of hair that may or may not touch the root of the hair, resulting in an evenly light effect on the mids and ends of the hair. Not only is it an effortless hairstyle, but as a technique it creates a great natural and multi-tonal look on all hair types, even curly hair.
Not only is it an effortless hairstyle, but as a technique it creates a great natural and multi-tonal look on all hair types, even curly hair.
In addition, balayage visually adds volume and enhances hair texture. Isn't that exactly what we always want the most?
You should trust us! Hair with a balayage technique is so versatile!
You can choose from warm and creamy vanilla and butterscotch blonde shades that give a cool and light sunny effect, to richer shades like caramel or even cooler - beige shades to perfectly match your hair root and skin tone.
Deciding what shade, you want to choose, the options are endless.
So, for brunettes who want to maintain their natural shade, but crave a new, refreshing look that doesn't require effort, we present our favourite @bamhairsalon.gr Balayage
1. Balayage in caramel blonde
2. Balayage in neutral iridescent blonde.
It suits all brunettes and will flatter all skin types.
3. Balayage in violet tones
4. Balayage in red - violet tones ending in bronze
5. Pink - gold balayage
6. Balayage in amber shade
7. Ink Balayage-Ombre
8. Ash - beige Balayage
9. Mushroom Blonde- Balayage
10. Βουτυρένιο Ξανθό Balayage
11. Balayage in beige caramel
12. Balayage in sand beige
13. Cool beige Balayage
14. Gold - Beige Balayage
15. Balayage in blue and green tones
Σε αυτό το βίντεο διαβάζουμε τις κριτικές των πελατών μας στο bamhairsalon στο Χαλάνδρι!
Ευχαριστούμε όλους όσους άφησαν τις κριτικές τους για το κομμωτήριο μας στη google !
Είναι κάτι που μας βοηθάει για τη δική σας καλή εξυπηρέτηση και εμπειρία στο κομμωτήριο μας!
Συνεχίστε να αφήνετε τις κριτικές σας για να κάνουμε την κοινότητα μας καλύτερη!
SUBSCRIBE: https://www.youtube.com/channel/UCxiLIcO-Bl76vXahzH4_9Zg?view_as=subscriber
INSTAGRAM: BAM Hair Salon @bamhairsalon.grhttps://www.instagram.com/bamhairsalon.gr/
FACEBOOK: beauty_affects_mind https://www.facebook.com/beautyaffectsmind
You dyed your hair with the most favourite and popular hair technique, balayage. Now what?
You already know very well that bleached hair is more delicate. Taking proper care of them is key to keeping them healthy and avoiding damage.
One of the most important tips we give to our bamhairsalon friends who have discoloured hair, is to reduce the use of thermal tools for styling.
But how shall I do my hair? We hear you say.
Balayage is really a wonderful technique for elegant women, and it looks best when combed. Or thoroughly sloppy combed if you want to have the ultimate look of the day. Based on this philosophy we will cover in today's article:
1.elegance
2.convenience and
3. carelessness
To protect your hair from the heat and enhance your colour, we've compiled a list of our favourite balayage hairstyles below.
1. Curls
No need to curl your hair with a curling iron or curling scissors as you can braid them into a ribbon in just 10 minutes, go to sleep at night and wake up the next day with gorgeous curls!
Check out our heatless curl technique.
2. Thoroughly sloppy bun
If your hair is straight and you want to create your bun in curly hair, then create the curls without heat and the next day when you untie your hair; create this easy bun that we show you in this video!
3. Put a scarf in your hair.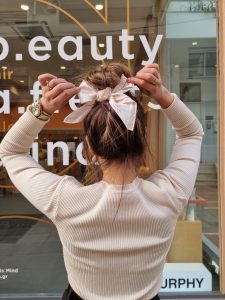 Whether in a low bun or a high bun, try adding a scarf to your hair to upgrade your hairstyle!
We have videos of 3 super easy hairstyles with scarves on our YouTube channel! Pay close attention to this video on how to properly and firmly secure a scarf to the hair for a more stable and easy result!Whether in a low bun or a high bun, try adding a scarf to your hair to upgrade your hairstyle!
Create easy chignons with accessories like scrunches, bangles, and bobby pins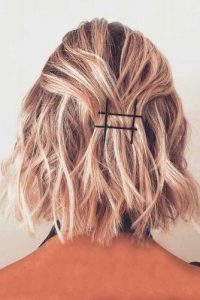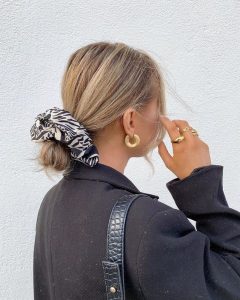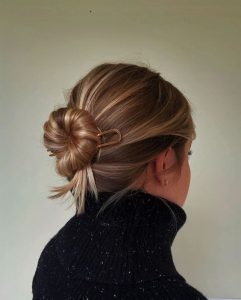 You'll only need 5 minutes to create these easy chignons that will bring out your sun-kissed colour hair!
5. Braid your hair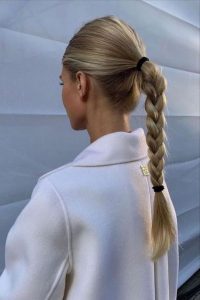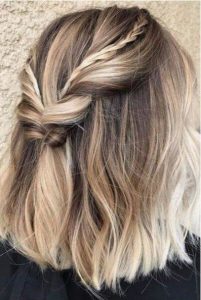 Braids and hair twist in hair with balayage technique will show off your new colour, protect your hair and give you a look that you can keep from the morning at work to the evening for a drink with your friends!
You have nothing to lose! All that's left is to learn how to manage your new hair to create an easily chic style! Experiment with easy hairstyles that will not only protect your colour but show it off at the same time!