"Your style is a language, undoubtedly a form of nonverbal communication."
Did you know how your haircut and hair color is the first thing that defines who you are?
Defining your personal style is a highly significant process, but it starts with embracing a fundamental factor.
And that is that your style is a language.
Style is a form of nonverbal communication,
which we engage in all day, every day, whether we realize it or not.
Our goal is to assist you in expressing your true self and personality through your hair style.
Let us inspire you to remain unaffected by beauty standards.
But to do what fits you.
Our goal is to make sure that with the hair we create, you take control of this message, so you can use it to your advantage.
Through the process of consultation, diagnosis, and recommendation, we help you unlock your true, authentic personal style forever.
So think about the energy and emotions you want to convey about who you really are.
Are you revolutionary, confident, strong, daring, playful, warm, cute, approachable, badass, relaxed?
By combining these personal characteristics of yours with the style you love, the time you have available in your routine, the quality and quantity of your hair, and even your budget,
you will not only find what suits you, but you will also remain perfectly true to your style without much effort.
low maintenance hair for an affordable and stylish look
colorful hair and a playful mood
Hair with a special cut for trendy gals
Bold haircut for bold girls
Hair with a sexy mood and confidence
Hair with an elegant style and a Parisian air
Hair with a Boho Mood
We've talked many times about the damage caused by heat tools on hair when used daily, especially if you haven't properly prepped your hair.
Whether your hair looks dull, or it's breaking, or even if it's frizzy, the first thing you can do to bring back their health is to take a break from heat styling.
Let's clarify here that we don't mean drying your hair with a hairdryer, but rather styling your hair with any kind of heat tool.
And of course, you might be wondering: "How can I style my hair to keep it looking polished without using heat?"
The answer is Protective Hairstyles.
What are "protective hairstyles"?
When we talk about "protective hairstyles", we're referring to easy hairstyles that you can do either by yourself or at the salon to shield your hair from damage caused by the sun, sea, or heat styling tools.
The purpose of this article by the hair experts at bamhairsalon is to provide you with easy solutions and stylish ideas for always having well-groomed hair, effortlessly in just a few minutes, and of course, without any damage!
So, "protective hairstyles" are like the go-to cool hairstyles that don't mess up your hair, and it's a smart move to rock them even in winter to give your locks a breather from all that heat styling.
Who are they suitable for?
No-heat Hairstyles are suitable for all hair types.
They are highly recommended for those who have very damaged hair and want to start (or have already started) their journey to healthy hair. Always combined with a hair care routine with specific products and treatments.
1. Curls without using heat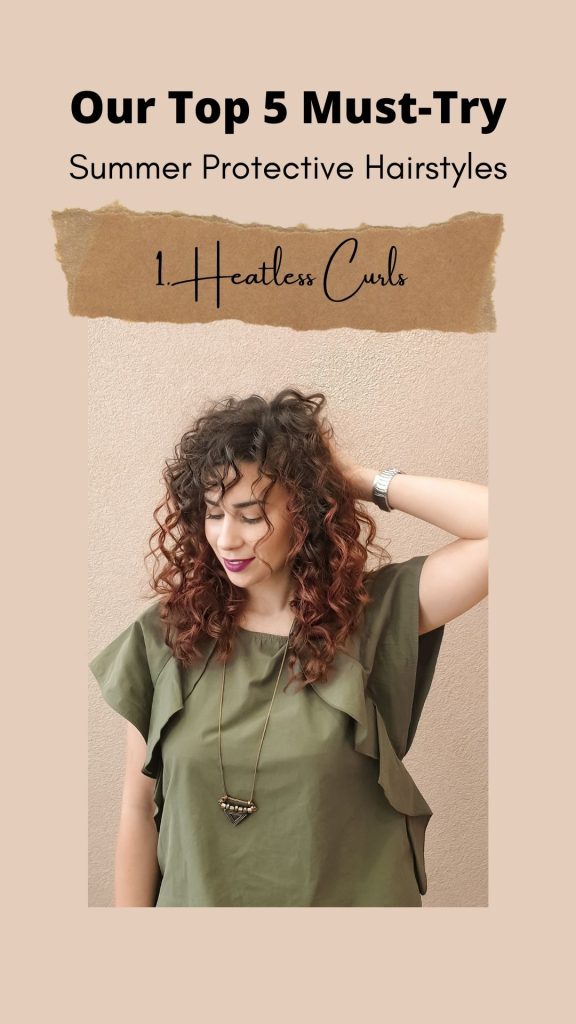 An easy technique for any hair type, even for curly or frizzy hair.
You wrap your hair up with a fabric band or a scarf and sleep with it on. Keep in mind that when you sleep with your hair wrapped in a scarf, it drastically reduces frizz.
To keep your curls all day, use a styling product before you do the process.
Complete your hairstyle with hair oil and hairspray for hold.
Watch the tutorial here.
2. Messy Bun
Skip the tightly pulled bun if you want a super natural hair look that screams zero effort!
It will look fantastic if you curled your hair without heat the previous day, because your hair will have a bit of volume and the curls will have transformed into more relaxed waves.
If you haven't done any prep work on your hair, no worries at all!
If your hair is very straight, flip your head upside down and spray a bit of texturizing spray or holding spray onto your hair to give it some volume.
If your hair is wavy or curly, use just a leave-in conditioner to reduce frizz along the lengths and ends.
Get creative and add hair accessories if you want a more playful and girly chic hairstyle!
Watch the video tutorial here
French / Dutch Braid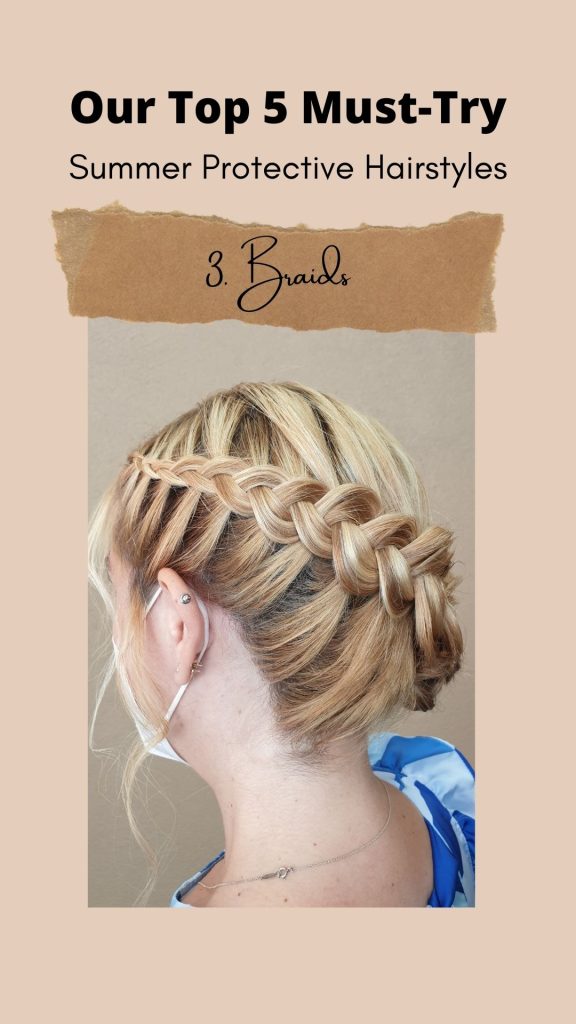 Whether it's one or more, this hairstyle couldn't be missing from our Top 5 favorites!
Always stunning and suitable for every occasion, braids will have you looking fabulous!
If you're having trouble doing it on your own, book an appointment to get your braids done by a professional.
At B.A.M. hair salon the options for braid hairstyles are limitless.
Additionally, you can maintain the hairstyle for multiple days, saving you the hassle of styling your hair each morning.
By the way, don't forget to get a treatment according to your hair needs!
4. Hairstyles with scarves
Unfortunately, scarves are an underrated accessory.
However, if you consider the countless possibilities a scarf can offer in terms of women's styling, it's truly mind-blowing!
Scarves add an elegant touch to your outfit, whether you tie them around your neck, onto your bag, or in your hair. So, take out that scarf you've stashed in your closet and let's create three beautiful, stylish hairstyles to make you stand out!
Using scarf can also protect your hair from the sun's rays and reducing frizz!
5. Bubble Braids / False Braid
An impressive hairstyle that is suitable for a casual day, a night out or a wedding.
A handy alternative if you can't braid your own hair.
This hairstyle is very easy and looks like a braid.
You can rock this hairstyle either very loose or more sleek and pulled-back.
We suggest giving it a try if you haven't had a chance to wash your hair, using a product to secure your hair and roots.
Look how easy it is to create this hairstyle here
These were 5 no-heat hairstyles that we suggest you try!
No matter what you do from these, add your own twist and personal touch for a complete styling that represents you!
Since the summer break has come to an end and we've officially stepped into fall, we've put together a fall hair care bucket list for you! Get ready to check off all the things you need to do to take care of and style your hair this season.
I want: Keratin Treatment - Keratin Botox
If you postponed treatments like keratin or hair botox due to the summer, now is the time to prioritize smoothing your hair and reducing frizz. Get ready to kickstart your work and responsibilities routine with sleek and manageable hair!
You'll significantly cut down your styling time, giving you more room to tackle your busy daily life.
I want: Haircut Refresh
The time has come to give your hair a therapeutic trim at the ends to bring vitality and health to your hair. Combine it with the curtain bangs you've been thinking of trying for a while.
It's the perfect time to try out this hot look, especially now that the hot weather is over. This will determine if bangs are something you want to keep for the rest of the season as your new signature look.
I Want: Quality hair routine
Summer is gone and so are all the summer hair care products.
Create a new, minimal hair routine focusing on the needs of your hair.
A Good Quality shampoo, conditioner and hair tratment are the absolute essentials.
Finally, invest in good quality products and reduce waste in terms of money, time, and space on your bathroom shelves.
I want: Pumpkin Spice aesthetics
Pumpkin spice lattes and butternut squash soups are the must-have flavors of fall, so why not let them inspire your new hair color as well?
Give your blonde balayage a quick refresh by using a toner in copper or ginger shades. It's easy to go back to the blonde you love as the shade will fade over time and will reveal your favorite blonde again!
I Want: Hair Styling
Isn't it wonderful to have well-groomed, well-combed hair?
How we present ourselves to the outside world has a significant impact on our psychology.
Part of your overall styling is also the styling of your hair, as many times a nice outfit alone isn't enough.
So, play around with accessories, low buns, and braids in your hair to complete your style.
I Want: Organized appointments at the salon
Always book an appointment for your next visit at the hair salon during each visit, as advised by your hair expert.
Scheduling your appointments in advance will help ease your stress of last-minute booking, ensuring availability when you truly need it.
If your makeup changes within a few hours especially during the summer months, then you should read this helpful article by bamhairsalon expert Christina, even if you don't do full face make up!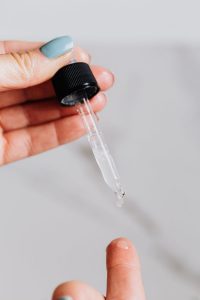 Prepare your skin
It is essential to have a facial routine that you follow strictly on a daily basis, depending on your skin type.
A well moisturized skin will help to get a flawless foundation finish without having an ugly texture on your foundation.
If you have a formal event to attend such as a wedding, do a great job of prepping your skin for deep hydration the night before.
The next day, cleanse your face with a light soap and avoid wearing facial moisturizer immediately before you start your makeup.
Ideally after cleansing with the soap, wear a hyaluronic acid serum and let it absorb for at least an hour before you start your makeup or even better, do this simple routine in the morning as soon as you wake up.
Skin preparation before foundation
Before you start applying foundation, apply primer to face and eyes. A primer is a cream product that is applied before foundation.
Choose a primer according to your needs:
a) If you want to reduce pores, choose a primer that will help improve skin texture and reduce the appearance of deep pores
b) If you want your skin to radiate, choose a primer with a metallic tint so your skin radiates shine.
The first setting
Use setting spray to your face and wait 1 minute for it to be absorbed by the skin.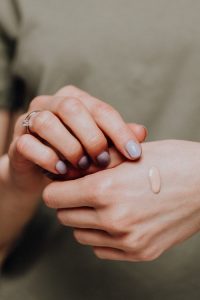 Foundation
It's foundation time!
It's very important that the foundation you use is for your skin type, and is as stable as your concealer.
Apply a light 1st layer of foundation on your face and repeat with a 2nd layer especially on the areas that need coverage.
Avoid using too much foundation in places like under the eyes, between the eyebrows and forehead, and on the nostrils.
Use concealer for better coverage after foundation for better results under the eyes, but also to highlight the high points of your face.
The second setting
Use setting spray again to set the foundation well into the skin.
Wait 1 to 2 minutes for the product to absorb before continuing your makeup application.
Powder products vs. cream products
After applying the foundation to your face, it is very important to arrange your makeup products in the right order.
Remember that cream products go after foundation.
For a consistent makeup look, we don't recommend using cream products alone.
It would be a good idea to top it off with a powder product.
For example, if you have a creamy product to make contouring, the right time to apply it is after the foundation and on top of that you can reapply it with a bronzer powder.
The same goes for blush and eyeshadows.
Lips and eyes
To make your lipstick firmer, apply concealer to your lips first. This will create a neutral and firm base where the colour you choose will come out much cleaner and more even.
After the concealer, use a lip pencil the same colour as your lipstick.
Paint the entire surface of the lips, not just the outline.
Finally, apply your lipstick to give the final effect to your lips.
You can use the same principle for your eye makeup. If you've applied primer to the eyes, you don't need to apply concealer, unless there are strong discolorations. The concealer will mainly serve that purpose.
8. Firming up the makeup
To firm up the makeup you have created, go over your face and especially places like under the eyes, T-zone, nostrils with a transparent light powder.
With the powder you will make the effect more matte and stop the burst of oil from the sensitive parts of the face.
Add sparkle
Sparkle in makeup is a must.
Use highlighter in powder form and not cream on the high points of the face like the cheekbones.
The reason why highlighter comes in as a second to last step for a solid makeup application is because before you have set powder to your face, any creamy product will mess up the whole makeup texture creating intense patches that you won't be able to fix locally.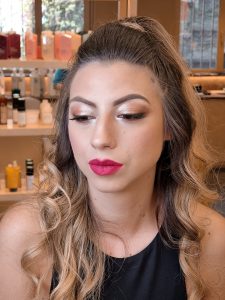 The final set-up
Once you've perfected your makeup and taken care of all these details, use setting spray one last time.
The setting spray is the 3rd of the 10 steps to a solid makeup look. Don't skip it!
The primer also carries the same weight because is meant to hold the foundation in place for hours.
We hope we've helped you with these 10 steps to a solid makeup look!
You can apply any of these for a more casual, everyday or all of them together for an evening makeup look!
Remember that evening makeup, or makeup that we want to last for hours, is usually heavier and it's hard to overlook steps.
Remember that the makeup process is an enjoyable process that in the end brings an impressive result!
Take your time and enjoy it!
Σε αυτό το βίντεο διαβάζουμε τις κριτικές των πελατών μας στο bamhairsalon στο Χαλάνδρι!
Ευχαριστούμε όλους όσους άφησαν τις κριτικές τους για το κομμωτήριο μας στη google !
Είναι κάτι που μας βοηθάει για τη δική σας καλή εξυπηρέτηση και εμπειρία στο κομμωτήριο μας!
Συνεχίστε να αφήνετε τις κριτικές σας για να κάνουμε την κοινότητα μας καλύτερη!
SUBSCRIBE: https://www.youtube.com/channel/UCxiLIcO-Bl76vXahzH4_9Zg?view_as=subscriber
INSTAGRAM: BAM Hair Salon @bamhairsalon.grhttps://www.instagram.com/bamhairsalon.gr/
FACEBOOK: beauty_affects_mind https://www.facebook.com/beautyaffectsmind
The beauty of winter lies in those moments when we come home and curl up by the fireplace. There in a beautiful corner of the house where we will snuggle in comfort and relax with a book.να βιβλίο.
Yes, winter is a very beautiful season. But unfortunately, the low temperatures, strong winds, even snow can "upset" our hair, freeze and dry it and we have to deal with a different, new hair routine.
Whether you are experiencing a major change in your hair's behaviour or not during different seasons, you should know that your hair routine should change as the seasons change.
Ideally, the change of hair routine from summer to winter should start in autumn. Just before the severe winter weather conditions hit.
However, it doesn't mean that now is too late to start.
Providing your hair with what it needs can only be a good thing.
So, understanding that the intense changes in the weather directly affect your hair health, let's go over the 4 steps for a winter hair routine.
1. Sparse hair washes
As hair experts we believe that the ideal frequency of your hair washes is according to your needs and preferences.
There is no right and wrong about the frequency of shampooing.
Depending on your own frequency of shampooing, we suggest during the winter to dilute the frequency of hair washes, as shampooing during cold weather can dehydrate your hair even more.
So, replace some washes per week (if you wash every day) with only conditioner (without shampoo) or use leave-in conditioner.
This will help hydrate and control fizziness in your hair.
2. Hydration is your best friend
The number one rule to beat winter is hydration.
Embrace hydration by selecting shampoos, conditioners and treatments aiming for hydration.
The hair treatments you use during the winter months should be for moisturizing and restructuring once per week.
For strong and better results, you should do a hair treatment at the salon at least once per month.
3. Add shine to your hair
Naturally, hair is duller during winter. However, there is a way to fix that.
Add shine to your hair by using shimmer shine oil that fixes and restructures hair. Such product works as a leave-in treatment that you don't rinse out from the hair. In this way it deeply nourishes hair by strengthening and locking in moisture!
4. Haircut appointment
Bad weather conditions, thick clothes, and fabrics we wear during winter create friction and result in hair breakage especially at the ends.
For that reason, it's very important to maintain your regular haircut schedule during the winter months to keep your hair healthy.
So, these are the simple 4 steps you will do to update your hair routine this winter.
Updating your routine in every season will help you to have beautiful and healthy hair all year round!
Meet Sophia! A talented girl who seizes life's opportunities!
She is ready to change her lifestyle and make a new start by moving from Athens to the countryside!
It's a new lifestyle that starts dynamically with a #hairmakeover!
She has kept her hair long for many years and hasn't made a change in a long time.
The team of bamhairsalon will change Sophia's hair to a more unconventional haircut with different lengths and textures adding a joyful and optimistic mood style with colours that blend beautifully together!
Eleonora is already too cool, and you will notice it through this makeover!
She is a very famous tattoo artist in Athens who loves her work, although she doesn't see it as a job because tattoos are her passion.
She is truly a very talented artist who is also a mom!
She shares with us her experience of motherhood, how much it affected her mentally and physically and how blessed she feels to have given birth to her son!
She loves her curly hair as she finds it playful and what she needs and expects from her change is to feel again that cool person she used to be!
Will the bamhairsalon team be able to pull it off?
More #hairmakeovers